Despite the known personal and academic benefits of taking a gap year after high school, at present, only about 1% of Americans take advantage of the opportunity. Compare that figure to upwards of 50% of young people in countries like Denmark and Turkey, or in the UK, where taking deliberate time out has become an accepted rite of passage for youth.
So why hasn't the gap year option hit the mainstream in the US? I believe it's because there are still lingering misconceptions about taking gap time that need to be cleared up. So here are 8 myths about taking a gap year, so you can make a decision for yourself based on the facts.
1. A Gap Year Is a Year In Length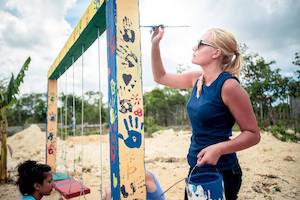 It's probably more appropriate to call it "gap time" than a gap year, since deliberate time out can last anywhere from two months to two years. But a gap year is defined by the Gap Year Association as "a deliberate period of time, typically taken after high school and prior to career or post-secondary education, in order to deepen one's practical, professional, and personal awareness." Gap years are also known as "bridge years" or "interim years" but no matter what you call it, the elements of personal discovery and intentionality are the most important characteristics of this period of time.
2. You Have to Backpack Through Europe on a Gap Year
Some people equate gap time with exotic international travel or Eurorailing across France. While that can be a great way for some people to spend gap time, there is no road map that students have to follow. Many gappers stay stateside during their year and explore the vast amount of opportunities our country has to offer. This can include national service opportunities with Americorps, career-related internships, working in our national parks, learning permaculture practices on a sustainable farm, outdoor adventure courses, volunteering on political campaigns and much more.
3. You'll Fall Behind Academically If You Take a Gap Year
It's easy to understand why people might assume that taking a year away from the classroom environment might put them behind academically. According to studies from Middlebury and UNC Chapel Hill, however, the opposite is true. Both colleges found their gap year students outperformed traditional students academically and graduated sooner as well!
4. Gap Years Are Only for "X" Type of Person
If you know someone who has taken gap time, you may assume whoever they are and whatever they did is the model for a typical gap year profile. This couldn't be further from the truth! Gap time can benefit any type of personality and learning style because there are so many different opportunities to support gappers. For example, a student may spend a gap year interning and gaining career-related experience because they're unsure of what they want to study at school. Another student may go to India to practice meditation in order to develop lifelong wellness habits. Another student may choose to learn Spanish and volunteer in Ecuador because they want to develop a skill while giving back to a community. These are all completely different people with different motivations and goals for their gap time. But they will all come away from their gap year enriched and more prepared for the next stage of life.
5. Someone Who Takes a Gap Year Will Never Go to College
There is a pervasive fear in our culture about what happens to a young person if they don't go straight to college, as if they will fall into a deep dark abyss and never come out. Data show that 90% who take a gap year begin college within a year of starting their gap time (and don't forget, as stated above, they are likely to do better once they start!) Whenever I address this myth I always like to add the caveat that not every young person should be expected to go to a four-year school. Besides the exploration option, a gap year can be an excellent way for a student to forge ahead with a different path in mind, such as vocational school, community college, the military or even career. We need to do better as a society to support students in choosing the best fit for an individual.
6. People Who Take Gap Time Are Aimless
Ask any "real adult" if they knew what they wanted to do with their life when they were 18. They didn't have a clue! (And possibly still don't!) A gap year isn't an opportunity for the aimless, because nearly every high school graduate is still asking questions about who they are and what they want to do. A gap year is a tool in getting closer to those answers. Gap year alums self-report developing confidence, communication skills, resilience, global perspective and other traits that benefit them tremendously in adulthood. Sixty percent of gap year students say their gap year led them to their desired career or college major. Imagine having that knowledge before stepping foot into a college classroom.
7. Gap Year Students Feel FOMO Watching Their Peers Go to College
When I talk to teenagers who are considering gap time, the biggest concern they have is the worry of feeling left behind. It can be hard for a young person to choose a less common path with confidence, but those that did say they have no regrets. When I talk to students after their gap year, they tell me things like, "Taking a gap year was the best decision of my life," and "I can't imagine not having taken a gap year." There is a growing tribe of gap year students; some colleges are even starting clubs to support incoming freshman who took gap time. Not only will gap year students not be alone, but they'll be joining a rarefied club of young people who did something unique and bold at the most formative stage in life.
8. Gap Years Are Only for Rich Kids
I saved the biggest misnomer for last. Let's be clear: anyone can take a gap year! I also want to be transparent in saying that there are certainly costly gap year programs available to students, typically service-learning semesters or courses. These programs offer an incredible service to young people in the amount of support, structure and mentorship participants receive (not to mention they offer financial aid). That being said, that is just one category of gap year opportunity. You can combine different types of options to fit your budget or self-fund your year with low-cost opportunities like grassroots volunteering, work-exchange and budget travel. Also, check out the list of scholarships available to gap year students via the Gap Year Association.
Now that the myths are busted, you probably are wondering how to learn more about taking a gap year! Take a look at the following resources for more information:
Get in Touch! You can email me at julia@enroutegapyear.com or visit my website.