If you are reading this blog, my hope is that you are a parent, looking for facts about the troubled teen industry (known professionally as family-choice behavioral healthcare industry), or researching treatment for your young adult. You may be anxiously skimming for the one detail to convince you, that single final detail…You might feel that your child is in danger if you don't finally make the decision right now. You feel like you are in a maze of life.
Please >>>sloooow<<< down.
If you are worried about the health and safety of your child, take your teen to the ER; give yourself a moment to catch your breath and provide yourself some quality time to expand your options. Breathe. You have more options than you know. Take a tiny bit more time to speak to your family doctor. Speak to your church leader(s) and good neighbors – ask if they know anyone with experience with teen depression, anxiety, or substance abuse or violence, or whatever is your family's struggle. Speak to any therapist or interventionist you know. Hire a professional. The pressure and panic will diminish as you start to hear good options and similar anecdotes turning hopeful again. Resist the pressure to just place your child in treatment because it is the only thing you think you can do. There is a lot more for you to understand, and you have time to choose… better.
After you've arranged a safe temporary detour for your child, you will be well-served to become deeply familiar with the spectrum of interventions, short- and longer-term residential placements, in-home and even wilderness options – all the treatment options. For example, one aspect in your next significant decision will be about how to continue your child's education, within the added necessity of therapeutic treatment. The resources on this website, including associated blog articles, can assist you in demystifying the importance of accreditations and affiliations so that you, the parent, can begin to investigate the distinctions between similar-sounding options.
Because this website provides valuable information via unbiased information, EVERY advertiser has to answer a lot of questions that are listed below their description. One of the most important pieces of information is under the "Accreditation" tab. Please note that not all states accredit in the same way, so understanding the differences is also important.
After reading the glossy pamphlets and poring over the programs' websites, you can compare apples-to-apples using All Kinds of Therapy's functionality, with each of the tabs divulging detailed information that a former therapeutic consultant considers critically important in programmatic design, minimum standards, efficacy, and best-practice compliance. Get familiar with the distinctions so that you can make the best choice for your family's current conflicts, and then compare 2 or 3 programs with each other.
1. What are the national accrediting organizations for treatment?
Many treatment programs do not have outside accreditation; if a treatment program is accredited by a national organization it is usually granted through The Joint Commission, CARF or COA.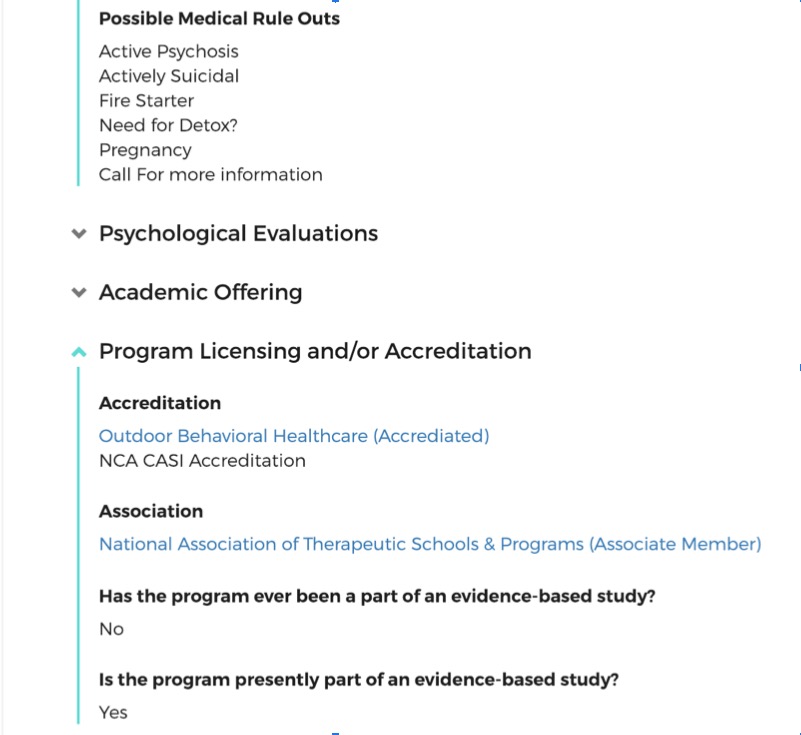 Why a treatment provider chooses one accreditation over another is about money, time, and if that accrediting body can assess that particular type of treatment provider. It is incredibly time consuming and a large financial investment to go through the accreditation process. One example of this is that programs designate an employee to get the paperwork together, document the systems and own the process of getting the treatment program accredited by a particular organization. This responsibility can be extensive enough to consume the employee's entire job. So, even if there is an accrediting organization that can judge the program's functions, it is often too financially costly for smaller organizations to attain. (Accrediting organizations have particular difficulty drawing conclusions about religiously affiliated treatment program, unless the religion is an independent piece of the program.)
2. Do all states license treatment programs?
No. Many do not.
In unlicensed states, privately-owned adolescent programs can open, close and can re-open at will. Most states do not license young-adult programs at all. And not all licensing states oversee the same components of a business, or only provide verify specific requirements. Some states do not do unscheduled inspections or track incident reports. Some inspectors (and educational consultants) do not interview the participating clients. Because of Utah's tragic history in "the wild West" of wilderness programming, their state regulations are some of the clearest, tightest restrictions on businesses, and have been a model for surrounding states' managed growth in this marketplace. As an example, read through Utah's code of conduct for providers.
Licensure does not necessarily protect families from unethical or predatory programs, nor does licensure ensure safer programs. Most importantly, parents must confirm that a treatment program calling itself a "therapeutic boarding school" (TBS) or "residential treatment center" (RTC) (read this blog about RTC vs TBS) or "wilderness therapy program" has a state regulations-based license for that label. Many programs recognize the marketing value of these keywords, without submitting to the rigors of state regulations or member affiliations. Read questions you can ask a state licensor, should you want to speak to state about a particular program's safety record or academic credibility.
3. Do any industry associations accredit treatment programs?
Yes and no.
To join the Outdoor Behavioral Healthcare (OBH), wilderness therapy program must be accredited by AEE within two (2) years of joining. In contrast, the National Association of Therapeutic Schools and Programs (NATSAP) does not accredit its members. However, many have gone on to become accredited by Joint Commision, CARF or COA. NATSAP is a membership organization, a trade group, that holds conferences and lobbies on a national and local levels. NATSAP is headquartered in the Washington DC area.
4. Is there an accreditation for Education Consultants/Interventionists?
No.
The Therapeutic Consulting Association (TCA), Independent Education Consultants Associations (IECA) and the Network of Independent Interventionists (NII) all have codes of standards and require that their members not be paid by providers for their placements. They are membership/trade organizations.
Member Education Consultants and Interventionists cannot accept kickbacks or bribes for placements, but as they travel extensively to learn about programs and treatment options it is an acceptable practice to share the costs of business travel with treatment programs. It is completely reasonable to ask any referring professional how they share the costs of travel (50:50, 30:70, or 70:30). Click to review questions to ask a placement professional, should you be hiring an education/therapeutic consultant/interventionist.
5. Are there certifications or accreditations for therapeutic consultants and interventionists?
Yes.
The only certification for consultants is the Certified Educational Planner exam of knowledge of the placement process and is good for 5 years. Anyone can take the test, regardless of membership.
There are separate certifications for interventionist types, like Arise. There is also the Network of Independent Interventionists (NII) who are interested in holding up ethical standards in the substance abuse/recorvery industry.
6. Are there particular treatment models that offer accreditations?
Yes.
The Teaching Family Model , an association based out of Virginia, has a rigorous accreditation like that of COA, CARF & Joint Commissions, requiring retesting as often as every five years. There is only one advertiser on this website that has this accreditation.
7 Challenges is the only research-based substance abuse treatment model for adolescents in the country. Many of the clinical modalities, such as EMDR, Brainspotting, neurofeedback, etc., that are utilized in treatment options also offer their own accreditations.
7. If a program has a national accreditation or a state seal of approval, does it mean my troubled teen will be safe?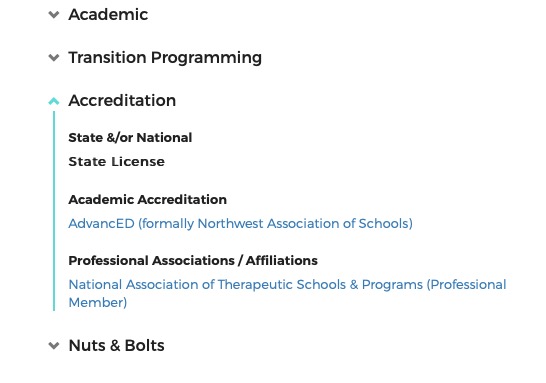 No.
While programs filter applications to reduce unsuitable risk, treatment programs cannot operate at zero risk. The best policies, training, and oversight can not prevent everything dangerous from occurring. Parents should feel encouraged, and will be wise, to inquire about training and procedures around (necessary) risky events (transports, interactions with "the public", contraband procedures, home visits, etc.)
8. Are there national accrediting organizations for the academic responsibility of troubled teen treatment?
Yes.
There are two, National Independent Private Schools Association (NIPSA) and AdvancEd. The academic (school) portion of a program may also be accredited by state agencies, as well.
When you are using allkindsoftherapy.com to compare options (you must have a login to use this feature) or researching options, ask the treatment programs all the questions that you have, use these blogs as stepping stones and do not feel that you must make the decision hastily. Each one of the therapeutic schools and programs are different in how they do things. How they implement and operate their program will impact how they answer questions about licensure and accreditation. Take your time and do your homework. Quality programs enjoy interacting with engaged and educated consumers.
About the Author
Jenney Wilder, M.S.Ed launched All Kinds of Therapy in 2015, as the only independent online directory for the Family Choice Behavioral Healthcare Industry. With an impressive case of ADHD and her starter career in the 90's in Silicon Valley, the dream for creating a website with features like side-by-side comparison and an integrated newsletter was born. Jenney stopped counting treatment centers and all types of schools that she has visited when she hit 500 many years ago. She was the sponsoring author of the only Economic Impact Study of the Family Choice Behavioral Healthcare Industry, which revealed the only true financial figures about this industry (in Utah). Jenney has a Masters in Special Education from Bank Street College (NY) and a Bachelors of Arts focused on History from Wheaton College (MA).