During a recent dinner conversation with a friend who is only tangentially familiar with the field of behavioral healthcare, he inquired about the cost of the programs ("How can they be so expensive!?") and what separates a reputable program from one that is less reputable. These are good questions, and worthy of some comprehensive answers.
First of all, costs: the cost of behavioral healthcare programming is high, and often more-so in a private-pay treatment environment, where insurance, fundraising, discounts, scholarships or public funding is not available to offset the costs of tuition. But let's take a moment to peel back the finances of a typical program.
Generally speaking, salary, wages, and benefits are, far and away, the greatest expense for a program, often accounting for 40 – 60+% of the cost of overall operations, depending on the level of acuity the program is designed to treat. Tuition is, for the most part, being used to employ the people who provide the supports and services of the program. Many programs come quite close to a 1:1 staff-to-client ratio when all employees (including administration, food service, facilities and maintenance, etc) are factored into the equation. Attracting, retaining, and providing ongoing professional development for the best people to provide the best care does come with an associated cost.
Other operating requirements also cost money.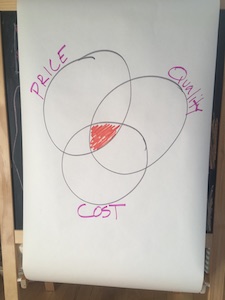 Programming, events, gear, vehicles, entrance and land-use fees (especially for wilderness therapy or hybrid programs), school and educational materials – it all costs money. So does food, electricity, gasoline, heat and insurance. Add in costs associated with record keeping, HIPAA compliance, accounting practices, IT, phones, internet, and other "backend" costs. Add in marketing (websites, collateral, travel, professional tours, and other promotional costs), and professional development (training, clinical supervision, continuing educational requirements, conferences, etc.). There are also real costs associated with the physical plant (property, buildings and grounds, maintenance and landscaping, improvements, repairs, and new construction). It all adds up, and the vast majority of it goes right back into a client's direct experience.
As a result, "inexpensive" does not necessarily equate to a "bargain" since savings have to come from somewhere – and that reduction can impact treatment.
The next variable affecting cost is quality. Although a good place to start, licensing and accreditation is not the only factor in assessing a program for quality. There are national accrediting organizations (including COA, AEE, Joint Commission or CARF), and these accreditations do denote a certain level of quality, stability, and a commitment to continuous improvement.
However, there is often more to the story than accreditation (or a lack thereof). And, depending on the facility, the state or the age of the clientele, accreditation, and licensing, may not be available, plus major personnel or programming changes may have happened since the license or accreditation was acquired.
So how is a family to know that they are engaging with a reputable program with a strong track record of success, and not just a flashy website with some glossy brochures? Certainly one proven strategy is to work with a referring professional who can guide families to quality options. Although there is an additional upfront cost associated with that route, there is also significantly more security in the knowledge that the presented options will be reputable and provide long-term value in maximizing your family's investment in the best treatment option among many. Additionally, referring professionals can work with families with limited financial flexibility to find the best treatment options a family can afford and/or direct the family to a lawyer/advocate to assist in gaining school system support (depending on the state).
As you are searching through the appropriate options for treatment ask questions (about wilderness therapy and residential therapy), visit, and continue to ask questions. Families are allowed to ask about the financial health of the program – and just because a treatment option has been in existence for 10+ years does not mean it is financially solvent. There are a few too many true-life stories of programs folding almost overnight, leaving treatment, academics and families in the lurch.
Assessing the quality of a treatment option includes a variety of factors which include, but also extend beyond, treatment modalities or program philosophy. Many programs are structured as a for-profit model, while others are organized in a non-profit model. Neither approach is inherently good or bad – but understanding the reasons why a treatment program is for profit or nonprofit, the fiscal strength of the organization, and the ownership model, can be a factor to consider, especially when evaluating longer-term placements. Understanding and evaluating the cost of behavioral health care can assist families in developing a more nuanced view of the variety of options which exist.
(Click here to see the economic impact study from 2015 that breaks down how and where $ is spent in Utah's treatment programs.)
About the Author
Jake Weld holds a masters degree in education and has over twenty years of experience in traditional, LD, and therapeutic schools, adolescent and young adult programs, and conventional, wilderness, and residential settings. He has served as the Executive Director of a therapeutic boarding school, the Assistant Headmaster of a specialized LD boarding school, and as the Academic and Program Director of various schools and programs. He is currently the Director of Admissions and Business Development for Mansfield Hall, a specialized college support program in Burlington, VT, and Madison, WI.