Many people think that treatment – like the options that advertise on All Kinds of Therapy for troubled teens and young adults – are for the 1% of families who can easily afford private-pay care. Truthfully, some of the students who enroll are from the one percent – and many are not. How do 'regular people' afford treatment? This is a wonderful question and it involves consultations with lawyers, school districts, patience and trust. Yes, this is going to get confusing before it becomes clear.
Do you know what the Individuals with Disabilities Education Act (IDEA) is? IDEA is a federal law that is complex, but in short says, "Every child is entitled to a free and appropriate public education (FAPE)." Like all laws, IDEA is interpreted differently by each state, and does not always include children who have been expelled or suspended.
From IDEA, a child receives an Individualized Education Plan (IEP). Does your child have one? Many parents answer, no. Many parents do not want to label their child. My question to you is, "If your child needed glasses, would you get them?"
Cliff notes to an IEP: It is a legal document that 'should' create and tailor an educational plan for your child to reach his or her full potential. If you have questions around a diagnosis or behavior of your child at school, check out Myths of IEP's or:
Are there professionals who specialize in getting IEPs? Short answer, yes. There are advocates and educational attorneys. As a professional, at times I would recommend both of these, depending on the need for the child and family. These professionals sometimes go to IEP meetings to ensure the law is being met and the IEP is set up in such a way that there are measurable outcomes. This is a key piece to an IEP: the goal must be ***measureable*** in order to see if the school system is in or out of compliance. (FYI: volume or length of an IEP does not show or prove there are measurable goals, nor does it necessarily track progress towards those goals.)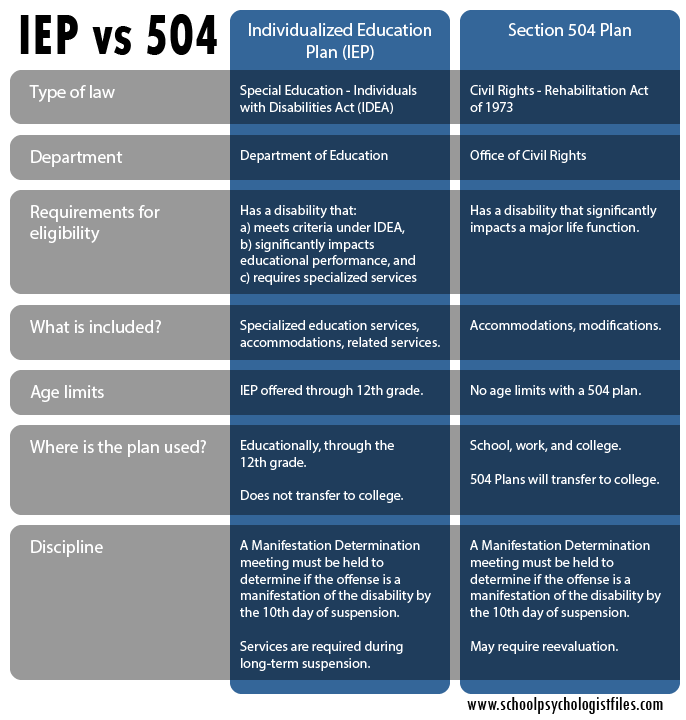 To find a professional to usher you through the process, start with The Council of Parent Attorneys and Advocates (COPAA). Their tagline is Protecting the Legal and Civil Rights of Students with Disabilities
What if the school is not meeting the needs of my child? What if there is another school that I have identified will better meet their needs? The short answer is there is a process, and you must follow that process or else you will not have a leg to stand on. Slow down and speak to professionals who are experts.
What if it is an emergency? I need the child in a treatment program now. If your child is in an acute situation, you should go to an emergency room because the child is at risk of harm to himself or herself or others. CALL 911 ASAP. Otherwise, you have the time needed to enlist the support of a professional; professionals in this business are accustomed to non-conventional work hours.
Ok, now the situation has calmed down and I have identified a treatment program that will serve the needs of my child. Now what? Contact a professional and get guidance ASAP because if you do not follow the correct steps, you will likely get no financial support from your school district. This is a process with no clear lines. Some school districts and states do this better than others.
The treatment program I found is in another state. Would my state cover that? Wonderful question and the answer is, "Maybe." Each state has treatment programs on their approved list that are in state and sometimes even out of state. California has several treatment programs out of state on their approved list. Keeping up with the list of what a state will and will not pay for in terms of treatment is what the education attorney, advocate or sometimes a therapeutic consultant can assist you with. Here is a little story for you to take in…
Each state is different….here is a true story about a middle class family that contracted with me for placement services. They received funding for primary treatment and secondary treatment, because of asking questions. As part of my process with the family I asked, "have you had questions about your child's education for a long time?"

Mother answered, "Yes."

"Did you ask the school to help you figure out what was going on because you are seeing x & y behaviors?" Mother answered, "Yes." "Did they do anything?"

Mother answered, "No."

"Do you have records of your requests?" A pause and the mother answered, "I sent emails and made calls."

"Do you have those emails?"

Mother answered, "Yes, why?"

"Because it sounds like you need an educational attorney who can go back to the school with your records because they were potentially violating IDEA. I do not fully understand that law, but I will find and ask a couple of attorneys in your state about this case and see if they think you might have case." I went on to say, "It is possible that you could get financial assistance from your state (her state is known for paying for treatment), but I have no idea and do not want to get your hopes up."
They received funding for the first phase of treatment and together we identified a second phase of treatment that their state would financially support.
It is not always this easy and it took months to get the funding with this "easy" version. The takeaway from this story is that knowing how to ask the questions and working through the process of IEPs and receiving formal services from the school and the district can lead down the path of receiving financial assistance to assist in the cost of treatment.
What if my state has no resources listed anywhere? I live in a state without resources. Click around on the web and find another family who has done this. You are not the first and sadly will NOT be the last. The Supreme Court recently handed down a unanimous decision regarding IDEA which guarantees and further articulates the school's responsibility to provide a "free and appropriate education." Click here to hear how NPR summed up the case. This particular case deals with a child on the Autism Spectrum, but it will have rippling effects for all the students who fit under IDEA. Here are categories that students fit under for IDEA:
Autism
Deaf-blindness
Deafness
Emotional disturbance
Hearing impairment
Intellectual disability
Multiple disabilities
Orthopedic impairment
Other health impairment
Specific learning disability
Speech or language impairment
Traumatic brain injury
Visual impairment
Now that you are exhausted and overwhelmed…. Take a breath.
Recognize that there is more than one way to go about this process and you will hear different things from different professionals because of their specialty and experience.
With this in mind, you are the parent, trust your gut instinct, do you homework and remember this is a process, not a clear line. It will have bumps. Be patient. Stay informed. Keep working to be your child's best advocate.
Side note… If your child is in a private school and does not have an IEP, you can still get one.
About the Author
Jenney Wilder M.S.Ed launched All Kinds of Therapy in 2015, as the only independent online directory for the Family Choice Behavioral Healthcare Industry. With an impressive case of ADHD and her starter career in the 90's in Silicon Valley, the dream for creating a website with features like side-by-side comparison and an integrated newsletter was born. Jenney stopped counting treatment centers and all types of schools that she has visited when she hit 500 many years ago. She was the sponsoring author of the only Economic Impact Study of the Family Choice Behavioral Healthcare Industry, which revealed the only true financial figures about this industry (in Utah). Jenney has a Masters in Special Education from Bank Street College (NY) and a Bachelors of Arts focused on History from Wheaton College (MA).