Schools, hospitals, and congregate settings publicly release information about vaccination rates. When I read this article about vaccination rates in all the schools in the State of Maine, I realized there are roughly 130,000 students (under 18) attending school in Maine. Because I, as a parent, wanted to know more about my child's school rates and COVID protocols, I then checked All Kinds of Therapy search data and then checked on Google and realized that other parents and referring professionals are looking for data too. Why? To assist with a family's research, insight, information gathering, in this ever-changing world that we live in, regardless of the age of their child and setting.
The chart listed below is the 21 treatment-to-transition programs, small boarding schools, and hybrid gap programs. The age group that most of that listed support is 30-year-olds and under. These will be updated bi-weekly or as needed. If there is a N/A by a number it is either because the number is constantly evolving as people enroll or the system is too complex to explain. Please note that all of these places and even those who choose not to report are happy to talk about protocals on their campus. Most of the participants are paid advertisers on this website, however, we are calling and welcome data from the place. This blog will be updated as more data is reported. This blog is to answer the questions around health in programs, during the pandemic. One thing we know is that data changes often when it comes to COVID-19 & the Delta variant.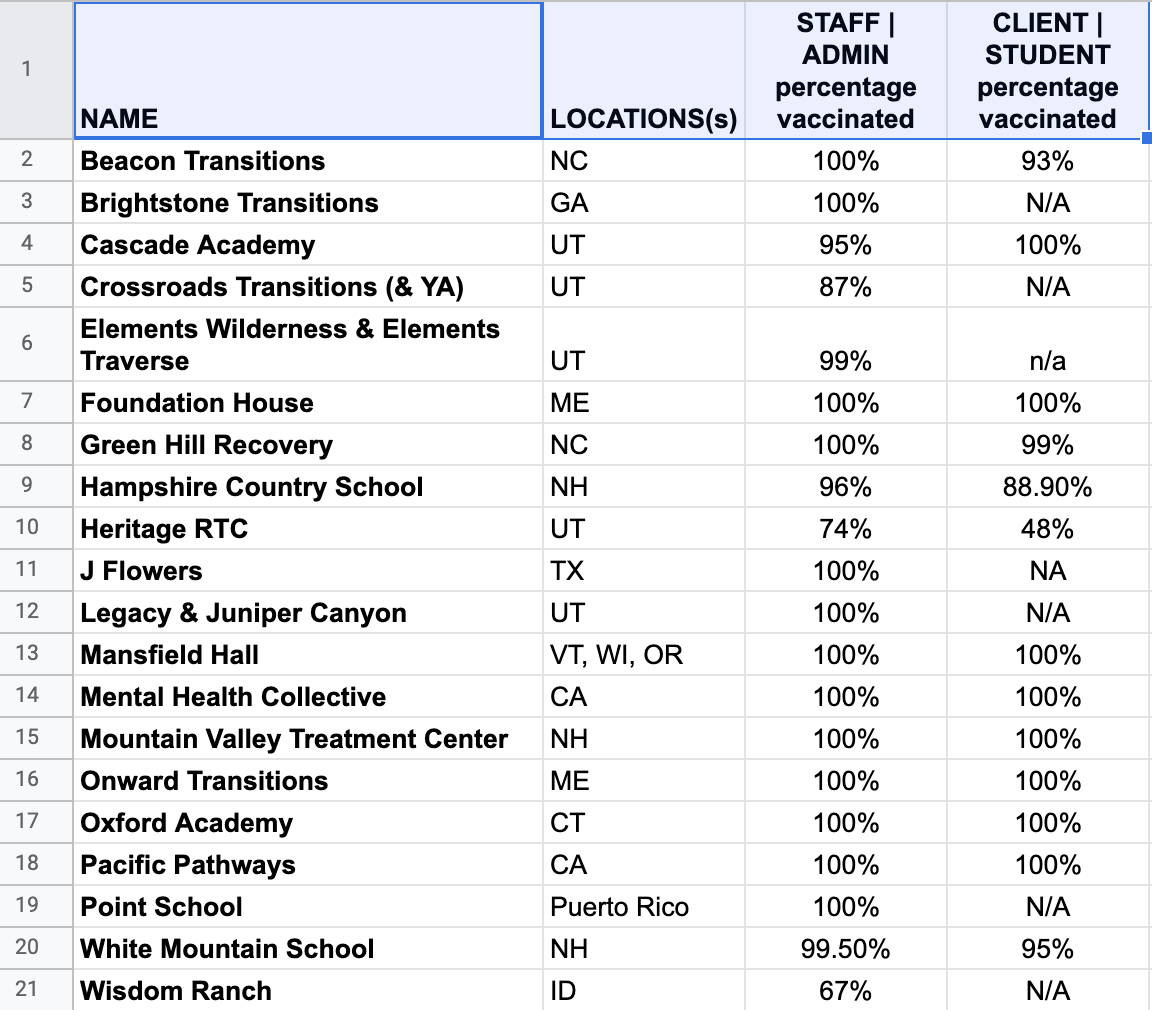 While gathering the vaccine data, we learned a few bits & pieces:
Several teen programs have begun to put their pre-vaccine pandemic protocols back into place because of the COVID numbers around the country.
Most of the respondents to this information require proof of vaccination from all.
Anything labeled N/A means that no data has been collected
Most of the respondents required vaccination by FTE & PTE.
Some places reported that they created mass vaccination opportunities for FT & PT employees & participants.
Some responded that if employees are vaccinated & get COVID while working, staff will receive additional benefits/sick time.
We have a small program, it is easier for us.
There is a lot more information than what this blog states.
Revisit this blog data will be updated & shared on social media channels every time it is updated.
If you are interested in participating in this ongoing project, please email support@allkindsoftherapy.com with the above-requested information.
If you have a webpage that explains further your approach to COVID protocols or vaccines for staff/students/participants/families on your campus, please email that to us too. We want to link to you. If you have questions, please call or text 202.630.2563.