Close your eyes, and imagine this: prescription drug abuse is declining among our youth. Surprise! It's true. Adolescents and teens reported past-month use at 4.0% in 2002 and at 2.8% in 2012. To what do we owe this honor? Research in 2008 claimed that perceived risk separated users from nonusers among most adolescents, teens, and college students — a finding that supported preventative education programs. Could awareness programs be working?
Now, you might want to take a seat: National overdose deaths are on the rise, with deaths from overdoses on antidepressants, barbiturates, benzodiazepines, and opioids burgeoning in 2013 to two and a half times the rate in 2001. Opiate pain relievers alone resulted in 15,000 fatal overdoses in the U.S. — more than fatal overdoses of heroin and cocaine combined.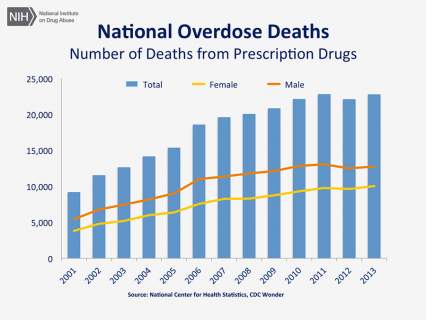 Professionals in healthcare and social-work are scrambling for solutions to this epidemic, and their efforts to educate the public and bolster regulations governing pharmacies and prescribers, requiring measures such as information sharing and prescription-drug monitoring programs (PDMPs), may be working, but it's too soon to tell. Further, research in the past couple of years calls into question the aforementioned 2008 research; that is, fewer teens currently perceive some prescription drugs as dangerous, yet use is not on the rise. The full effects of lower perceived risk are unknown, though some fear the drop foretells an upcoming rise in misuse and abuse. Only time will tell. In the meantime, you can make a big difference on another front: access. "Keep track of your prescription medications," urge the experts — and lock them up!
Lock Your Meds is a national campaign that focuses at the institutional level on reducing prescription drug abuse among youth by spreading the message to adults that they are the "unwitting suppliers" of young people experimenting with and becoming addicted to prescription drugs:
Today's news headlines are filled with stories about 'pill mills' and 'doc shopping,' and while they are real problems, they are not the primary suppliers. Neither are typical drug dealers on the street. Prescription drugs are being taken from purses, medicine cabinets, and grandma's pill case.
Lock Your Meds notes that 70% or prescription drugs obtained by youth for illicit use come from friends and family, which coincides with a CDC report that 80% of misused and abused controlled pharmaceuticals originate as legal prescriptions. LockMed — a manufacturer of products to safeguard medications — offers a few tips:
Count your pills and pay special attention to stimulants, painkillers, and cough and cold medicines
Assume control — monitor dosages and intake, and pick up refills yourself
Inform relatives of risks and ways to safeguard their prescriptions
Discard unused medications and scripts cautiously so they can't be used. (Many local police stations offer locked collection boxes for expired and unwanted prescription meds, for proper, safe disposal.)
Talk to your child calmly about your concerns and your willingness to help
Share ideas with other parents and encourage them to lock up their medications
LockMed quotes outdated statistics regarding prescription drug abuse, but their advice echoes that of institutions such as the CDC, FDA, NIDA, and SAMHSA. Other manufacturers of prescription-drug safeguarding products include Safer Lock, featuring a combination locking cap and bottle, RxDrugSAFE, offering fingerprint-recognition technology on lock boxes, and MedSafe, with a more spacious electronic safe that can be installed within an existing medicine cabinet. Locking pill dispensers are more expensive but work when the user needs independent access, and locking travel totes, while less durable, might come in handy.
As with any therapeutic intervention, the first step is preventing further access to self-harm. Locking up your potentially fatal medications is a real and important barrier to drug abusers.