The pandemic is hard on parents, it is hard on children, it is hard on grandparents, it is hard on individuals. Here are a few trending websites, with simple concrete steps to help your family during these times of COVID-19.
Child Mind Institute highlights the following:
Welcome their questions.
Don't avoid questions you can't answer.
Set the tone.
Be developmentally appropriate.
Take your cues from your child.
Deal with your own anxiety.
Be reassuring.
Focus on what you're doing to stay safe
Keep talking.
Here is the Child Mind's resources page for parents who are looking for options to assist in their day, because camp is canceled.
The Mayo Clinic advises parents take practice steps to build healthy coping skills.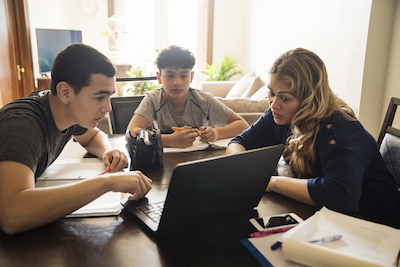 Another approach is from Harvard Health Publishing, Harvard Medical School, stressing enough but not too much information.
The three takeaways from many websites: keep it age-appropriate. You do not have to have all the answers. You, the parent, can not fix COVID-19, social distancing, mask requirements, school and camp being canceled, the neighborhood pool is closed.
What you can do is listen and validate their feelings.
The NYU Lagone Center has a wonderful article about Covid-19 Blues.
How do you assist your child back to school? It is never too early to talk about this because anxiety is high for parents and children and teachers. School is anxiety-provoking under the best of circumstances– now, throw in a pandemic and the evening news making the USA look like it is falling apart. UNICEF created this wonderful article to assist your talking through the social distancing and hand washing as back to school will be upon us before we know it.
About the Author
Jenney Wilder, M.S.Ed launched All Kinds of Therapy in 2015, as the only independent online directory for the Family Choice Behavioral Healthcare Industry. With an impressive case of ADHD and her starter career in the 90's in Silicon Valley, the dream for creating a website with features like side-by-side comparison and an integrated newsletter was born. Jenney stopped counting treatment centers and all types of schools that she has visited when she hit 500 many years ago. She was the sponsoring author of the only Economic Impact Study of the Family Choice Behavioral Healthcare Industry, which revealed the only true financial figures about this industry (in Utah). Jenney has a Masters in Special Education from Bank Street College (NY) and a Bachelors of Arts focused on History from Wheaton College (MA).