Back to Newsletter
All Kinds of News for December 01, 2015
Personnel Changes / Research / Programming Evolution / Programming | Trips | Visitors / Trainings | Conferences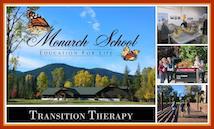 Monarch School offers Transition Therapy for a successful graduation experience.
Published December 01, 2015Monarch School
Category: Programming | Trips | Visitors
At Monarch School, we offer Transition Therapy to assist our students for a successful graduation experience. A few months prior to a student's graduation, they enter the Transition Therapy Program, in which the students and their families begin working with the Transition Specialist. Students receive support through regular meetings, therapeutic assignments, and special outings and trips leading up to graduation. Parents participate through periodic group video chats with the Transition Specialist, therapeutic assignments, and the Transition Workshop on campus with their students prior to graduation. Ultimately, the Transition Specialist assists families in developing a Transition Plan tailored to each family's needs and post-graduation circumstance.
During this pre-graduation period, special outings could include service projects in the area, social outings in Sandpoint or Spokane, college tours, and shopping trips to practice budgeting and time management.
Examples of some of our transition trips
Sandpoint: Trips in our local community give students time to walk around town on their own, whether it's downtown or at our city beach. This gives the students the opportunity to meet and mingle with local teens and experience the emotions that come up for them.
Community Service and High School Sporting Events: Transition students volunteer for a few hours at a local soup kitchen, where they serve soup and sandwiches to customers, and assist with prep and clean-up of the facility. Afterwards, we attend a local high school sporting event. This is an opportunity for them to be out and about with other teenagers and experience, once again, the high school scene.
Silverwood Amusement Park: This is a popular trip, of course. The students have the day to play, and they always manage to have a great time.
College Tour and the Mall: Transition Students meet with a college admissions rep and they take a tour of Gonzaga University. Students then are taken to the mall, a popular hangout for teenagers everywhere.
Animal Shelter and Thrift Store: This is also a favorite trip for the students. They can spend time socializing with the cats in the cat room, playing with the dogs, or walking them. We have also had students work in the thrift store that is attached to the animal shelter, and its profits help fund the animal shelter.
Spokane: Often for one of the last trips the group is taken to Spokane for a type of urban challenge, designed to allow them experience negotiating the city independently.
After graduation, families and students can schedule calls with the Transition Specialist or can utilize the Specialist on a more "on-call" basis as they navigate any challenges they may face. This support is available for three months post graduation. Post-graduation students and families are provided support as needed by the Transition Specialist; periodic group video chats are offered to the parents as a continuation of support. Additional support after three months is available on a contractual basis if needed.
Contact Monarch School for more information.