Back to Newsletter
All Kinds of News for August 03, 2016
Trainings | Conferences / Programming | Trips | Visitors / Research / Programming Evolution / The Lighter Side / Personnel Changes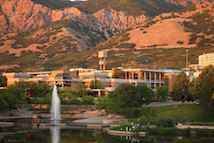 Fall Semester at Crossroads Adult Living Is Coming Soon
Category: The Lighter Side
As summer comes to an end and the school year approaches, Crossroads Adult Living is getting ready for college. The young men are excited and nervous as they anticipate the first day of class. More than half of the current Crossroads young men will be starting in the Fall semester at Weber State University. The therapists have been listening and watching closely to our clients' psychological, behavioral, social and cognitive barriers to success. These quotes capture where the clients are and where they are going:
"My brain is damaged by drugs."
"I fail everything so why try."
"As long as I never try, I cannot fail."
"I won't fit in here."
"I'll be the only sober student."
"I would rather choose video games over homework any day."
"I'll embarrass myself or look stupid if I raise my hand in class."
In the past few months, the Crossroads Adult Living team has been utilizing diverse approaches to build confidence and skills to mitigate these challenges. Here are the strengths of our program:
Weber State University is five minutes away from the Adult Living campus and offers open enrollment in addition to accepting all applicants. This is crucial because the majority of our clients have struggled in high school and at previous colleges. We have seen success at this college lead participants to transfer to other colleges with more rigorous academic standards.
Crossroads can offer a personalized academic success plan with options for a one-on-one tutor and group study "hangouts".
Therapists focus on cognitive restructuring of maladaptive beliefs, teach behavioral skills for anxiety exposure, and model executive functioning skills in both individual and group therapy.
Weber State offers a comprehensive office of "Services for Students with Disabilities" (www.weber.edu/ssd) to help our participants receive appropriate accommodations for issues such as ADHD, learning and emotional disabilities. Therapists help process underlying stigma of these diagnoses and challenges to seeking help, which often causes conflict for traditionally masculine men.
Crossroads Adult Living is proud to cultivate an environment that supports academic growth in the context of substance use recovery. Many participants never considered college an option and we are excited to facilitate their dreams becoming a reality.
Crossroads Academy serves adolescent boys 14-18 years old in three residential homes in Ogden, UT. As primarily a substance use program Crossroads Academy emphasizes adventure living and "The Seven Challenges". Crossroads Young Adult Transition Program treats young adult men, ages 18-26, with diagnoses most commonly involving substance use.