Back to Newsletter
All Kinds of News for December 07, 2016
The Lighter Side / Programming Evolution / Research / Personnel Changes / Programming | Trips | Visitors / Buildings & Grounds / Trainings | Conferences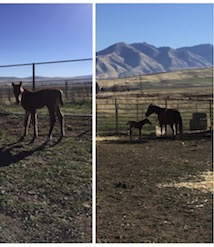 Uinta Academy Introduces Newest Family Member
Category: The Lighter Side
On November 8th, Uinta Academy added the newest member to the Uinta family, a sweet filly. She is doing well and learning the ropes of being a brand new baby. The Uinta Academy girls have had a great time seeing this filly come into the world. They have spent time feeding and taking care of her. Everyone at Uinta Academy loves the horses.
The horses are there for the clients throughout the residential treatment program. Horses assist the girls through their therapeutic journey.
About Uinta Academy
Uinta Academy, located in Wellsville, UT, is a fully licensed residential treatment center focused on working with young ladies ages 13-21. Uinta Academy is the nation's leading multi-dimensional residential treatment center for adolescent girls. We specialize with girls who struggle with relationships and attachment who have experienced trauma. Uinta Academy's clinically intense and sophisticated treatment program is balanced by a warm, nurturing, family-style living environment.