Back to Newsletter
All Kinds of News for December 07, 2016
The Lighter Side / Programming Evolution / Research / Personnel Changes / Programming | Trips | Visitors / Buildings & Grounds / Trainings | Conferences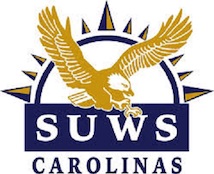 SUWS of the Carolinas' Alumni Revisit Heartbreak Ridge
Category: Programming | Trips | Visitors
On a balmy Saturday morning in November, SUWS of the Carolinas welcomed several alumni and their family members for a day hike up Heartbreak Ridge. Heartbreak Ridge is one of the most prominent hikes at SUWS, and the rocky pinnacle called Pride Rock is a popular location for transition ceremonies for students moving from one phase of the program to the next. Pride Rock is somewhat of a monument is SUWS culture, so it was fitting to set the site as the destination for our alumni hike.
Once the group was assembled, 12 families together, picnic lunches were prepared, we headed up, while sharing stories about the adventures of each participant. Many of the alumni who attended are now in college, and one student who returned from a graduating class in 2010 shared that he is now a licensed pilot, and working toward navigating a commercial aircraft. Many of the former students knew one another and genuinely enjoyed hearing about one another's success stories.
The hike consists of a gradual incline, and Heartbreak Ridge sits near the escarpment of the Eastern Continental Divide and the views are incredible. The group experienced peak leaf season, a little later this year in western North Carolina, and this certainly enhanced the opportunity for fantastic photos. After an invigorating hike and a tasty lunch, the group descended back to the SUWS basecamp where everyone exchanged information and said their goodbyes. The hike was met with enthusiasm, stay tuned for our Spring alumni hike when the flowers start blooming.
SUWS of the Carolinas is a wilderness treatment program for students 10-17 years of age who are working through addiction, depression, developmental disorders and behavioral issues. Students work with a licensed clinician and experienced staff members in a supportive outdoor environment free from the stresses and distractions of everyday life. SUWS of the Carolinas operates within the Pisgah National Forest under permits issued by the United States Forest Service (USDA), and is subject to the USDA Civil Rights Non Discrimination Agreement (Form AD-475-C).