Back to Newsletter
All Kinds of News for February 03, 2016
Programming | Trips | Visitors / Personnel Changes / Programming Evolution / Trainings | Conferences / Research / The Lighter Side / Buildings & Grounds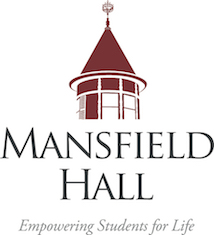 A Restorative Justice 'Circle Process' Kicks Off Mansfield Hall's 2016 Winter Convocation
Published February 03, 2016Mansfield Hall
Category: Trainings | Conferences
Mansfield Hall began 2016 with an all-staff training focused on Restorative Justice, facilitated by Marc Wennberg and Jon Kidde (co-author of Restorative Justice: A Working Guide for Our Schools, with Rita Alfred, 2011), and was then followed up with Winter Convocation, which we kicked off with a structured Restorative Justice 'Circle Process' to help set the tone for the Spring Semester.
Restorative Justice is a philosophical framework which "promotes values and principles that use inclusive, collaborative approaches for being in community. These approaches validate the experiences and needs of everyone within the community, particularly those who have been marginalized, oppressed or harmed. These approaches allow us to act and respond in ways that are healing rather than alienating or coercive." Lorraine Stutzman Amstutz and Judy H. Mullet, The Little Book of Restorative Discipline, 2005.
By begining our year with this day-long all-staff training, and starting our year with the 'Circle Process,' we are bringing Restorative Justice into the forefront of our dynamic work with our students. As a relationally-based program we're continuially (re)creating community and providing intentional social support for our students - many of whom may have some lagging skills in the area of social cognition. While the 'Circle Process' helps to lay a foundation for explicitly defining community expectations, it is but a small part of how the Restorative Justice approach is utilized at Mansfield Hall.
Restorative Justice dovetails seamlessly with our use of Collaborative Problem Solving, as well as provides a structure for students to utilize some of the skills they've learned and practiced in the Social Communication Seminar, which draws heavily on a Social Thinking (TM) - influenced approach to applied social pragmatics. By coupling CPS and Social Thinking, and augmenting them with Restorative Justice, social mistakes, miss-steps, and even transgressions can transition from "problems" or "mistakes" to real-world object lessons which are addressed in a supportive-to-all setting to help students develop their cognitive flexibility and perspective taking, and increase and deepen their capacity to understand how their actions impact others - all key steps on our student's progression toward authentic independence.
For more information about Mansfield Hall, or to learn about how we implement Restorative Justice, please check us out on All Kinds of Therapy, on the web at www.mansfieldhall.org, or contact Jake Weld, M. Ed., Director of Admissions.