Back to Newsletter
All Kinds of News for February 03, 2016
Programming | Trips | Visitors / Personnel Changes / Programming Evolution / Trainings | Conferences / Research / The Lighter Side / Buildings & Grounds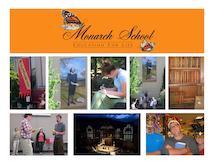 Monarch School offers a Shakespeare in Literature Class and Field Trip to Ashland, Oregon
Published February 03, 2016Monarch School
Category: Programming | Trips | Visitors
At Monarch School (MT), we offer a 14-week Shakespeare course that culminates in a 6-day trip to the Shakespeare Theater Festival in Ash­land, Oregon. In this class, the Monarch School students will read, study, research and analyze 5 to 7 plays in repertory at the Festival. After students have become familiar with each play, they will act as directors of a play of their choice and will create a portfolio of their production. This portfolio will include research on the play (setting, time period, etc.), analysis of the play's major themes, costume and set drawings, and a cast list with supporting material for their choice. Completion of the portfolio is a necessary prerequisite for participation in the trip.
Every year, English teachers Brian and Anna lead our annual trip to the Ashland Shakespeare Festival. Our trips offer the rare opportunity to see contemporary and classic masterpieces performed by a world-class repertory theater, and the backstage tour provides Monarch School students a glimpse into how a single company can perform such a variety of shows on just three stages. We stay at the idyllic Abbott's Cottages, just a short walk from the theaters where Monarch School students prepare all of their own meals. Every year we have a contest between the Monarch School boys and girls to see who can cook the most delicious meal; the runner-ups are on cleanup the night Brian and Anna cook. On the final night, everyone dresses up and goes out to Pasta Piatti for a fancy meal before the last show. While this trip packs a lot of theater into a short time, we also find time to play in Lithia park and check out the little shops that make Ashland so unique.
For more information contact Monarch School Admissions
Phone: 406.847.5095
Visit us online at monarchschool.