Back to Newsletter
All Kinds of News for July 06, 2016
Programming | Trips | Visitors / Programming Evolution / Buildings & Grounds / Personnel Changes / Research / Trainings | Conferences / The Lighter Side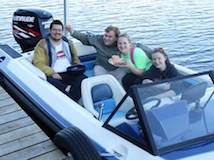 Minnesota Life College Teaches Real Skills for Real Life™ in Real-World Settings
Published July 06, 2016MICC
Category: Programming | Trips | Visitors
Minnesota Life College (MLC) began in 1996, a unique program in the Twin Cities has been helping young people with learning differences (LD) and autism spectrum disorders (ASD) learn independent living skills, gain vocational experience and make social and community connections that allow them to live happy, healthy, self-sufficient lives outside of a group home or their parents' basement. A life-long program, MLC begins for many young people while still in high school with their participation in the three-week Summer Internship Program, designed to get them into a workplace to practice soft skills and off of a screen to make real world friends and connections. This summer in July, 18 students from across the US will travel to the Minneapolis area to spend three weeks working and playing together, and getting their first taste of what independent living could be like.
For young people who have graduated high school and are ready to take the next step, Minnesota Life College offers the Undergraduate Program. This three year program is designed to build skills in the six competency areas that MLC's two decades of research and data collection have shown are most likely to lead them to successful independence: activities of daily living, medication management, work readiness, community connections, personal supports and overall health and wellness. In the past 20 years, 116 students have graduated from the Undergraduate Program, all of whom have been living independently since their graduation. Says a current student, "at MLC, it was the first time I felt like teachers recognized what I was good at, and helped me build on that. Each day I learn something that is actually useful, whether it is how to plan a healthy menu, avoid a credit card scam, take the bus to a doctor's appointment, or make friends. My sister doesn't have autism but she asks me for help sometimes with cooking because I know it better than she does!" MLC's Undergraduate Program has an average employment rate of 90% of graduating seniors, far better than the national average for young people on the spectrum.
Upon graduation, most of MLC undergrad's enter into the Community Living Program (CLP), a life-long supportive program that helps individuals with ASD and LD maintain their independent lives and jobs through social activities, small group education sessions, health and wellness training, monthly check-ins with Minnesota Life College staff, and vocational support, as needed. The Community Living Program also offers support for parents and siblings, as they begin to make lifetime assistance plans for their child, to ensure their health, well-being, and financial stability throughout life. A long-time CLP member describes the experience thusly: "In CLP, I live with my wife [another CLP member]; I do my own cooking, cleaning and laundry, all the stuff in learned in undergrad. I go to work each day without a job coach, and I love my job—I have been there 8 years! When she and I get home from work, we invite our friends over for dinner, and then go out to the movies, a concert, to our 5K club, or see what is happening at the CLP Annex. I am independent, but I never feel alone."
Happy, healthy, working, independent, and connected--isn't this what many parents want for their children?
Minnesota Life College has a few openings for the Fall 2016 Undergraduate Program, and is also accepting applications for the 2017 Summer Internship Program and the Fall 2017 Undergraduate Program. To learn more, please contact Director of Enrollment and Outreach Nina Jonson or 612.876.9431.