Back to Newsletter
All Kinds of News for July 06, 2016
Programming | Trips | Visitors / Programming Evolution / Buildings & Grounds / Personnel Changes / Research / Trainings | Conferences / The Lighter Side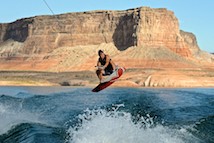 Wake-Boarding/Surfing Season has arrived at Crossroads Academy and Crossroads Young Adult
Category: The Lighter Side
Crossroads Academy was founded in 2007 by Sam Dahlin and Derek Bowles. Relational and experiential approaches are main components of the program. In 2014, Derek recognized a need for a Young Adult Transition Program, and it was only natural to have the same core philosophy and therapeutic approaches. When coming to visit the program, relationships and adventure sports will be positive aspects that prospective parents and participants immediately recognize.
Relational psychotherapists believe that the primary motivation of the psyche is to be in relationships with others. However, past interpersonal traumas (with a lowercase "t" or uppercase "T") alter social expectations and create long lasting insecurities and fears. Relationalists emphasize a mixture of important therapeutic conversations and authentic spontaneity in order to create lively, genuine relationships (www.apa.org).
Experiential therapy is based on the direct involvement of therapists observing a specific activity. Each experience then highlights social interactions and behavioral patterns, which therapists either point out in the moment or intentionally explore in a therapy session (www.aee.org).
Pineview Reservoir, up the scenic Ogden canyon, brings beauty, water and an overall fun backsplash to build relationships and share experiences. Crossroads Young Adult Transition Program utilizes wake-boarding/surfing as a sport for participants to practice newly learned therapeutic tools. For example, many participants have personal goals to overcome social anxiety and obstacles to growth. This enables them to challenge fears of embarrassment and limiting self-beliefs about failure. Participants not only learn how to wake-board and wake-surf but also help teach their peers. This reciprocity is important for building self-efficacy and fostering a healthy sober community.
Next time you are in Ogden, please come join us for music, laughter, and witness this process for yourself!
Crossroads Academy serves adolescent boys 14-18 years old in three residential homes in Ogden, UT. As primarily a substance use program Crossroads Academy emphasizes adventure living and "The Seven Challenges". Crossroads Young Adult Transition Program treats young adult men, ages 18-26, with diagnoses most commonly involving substance use.