Back to Newsletter
All Kinds of News for June 08, 2016
Personnel Changes / Programming Evolution / Buildings & Grounds / Trainings | Conferences / Programming | Trips | Visitors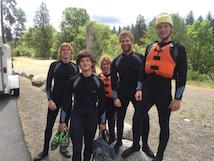 Life Designs Has Sober Summer Programming
Published June 08, 2016Life Designs Inc., closed
Category: Programming | Trips | Visitors
In celebration of the beginning of summer and the increasingly warm Pacific Northwest weather, the summer outdoor programming kicked off last month with a day long rafting trip on the Spokane River. Attending Alcoholics Anonymous (AA) group camping trips have occurred already. Life Designs is lucky to have the greatest recreational areas in the northwest in its backyard. There will be several trips and adventures throughout the summer to support our clients in their ongoing recovery.
To learn more about Life Design's continuing care programming for males, find the team at the regional National Association of Therapeutic Schools and Programs (NATSAP) conferences. Caitlin Prunty and Jonathan Gross will be attending the Rocky Mountain Regional NATSAP in Sandpoint, ID, June 9th and 10th. Vince Barranco will be heading off to Bend, OR for the Northwest Regional NATSAP on June 16th.
Life Designs is a dynamic and unique program that caters to young adult males with substance abuse issues who need guidance and personal growth before becoming completely autonomous. An 8 client treatment program provides individualized and relational mentorship and programming. Life Designs promotes self-discovery and independence through 12-step work, connection to nature, experiential and holistic therapy and life skills training.