Back to Newsletter
All Kinds of News for March 09, 2016
Programming Evolution / Programming | Trips | Visitors / Personnel Changes / Trainings | Conferences / The Lighter Side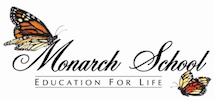 Yellowstone National Park Trip
Published March 09, 2016Monarch School
Category: Programming | Trips | Visitors
Yellowstone National Park is the oldest, most exotic, and arguably the most pristine national park in the United States. It has been called the "Serengeti of the West" due the abundance and visibility of its wildlife, and it contains about 50% of the world's geothermal features. Advantages to viewing Yellowstone in the winter include drastically reduced visitor numbers and increased visibility of wildlife. The winter conditions in Yellowstone allow students on a three-day tour to experience an arctic environment in the lower forty-eight states. We see the most impressive parts of the park and learn about the geology, ecology and history. Students come away with a comprehensive understanding of what they have seen and a greater appreciation for the park and its treasures.
Our group enters the Western end of Yellowstone in a privately-chartered guided "snow coach" with our luggage and Nordic skis in tow. Along the Madison and Firehole rivers we view wildlife, including bison, elk, trumpeter swans, bald eagles, and bobcats. The snow coach stops at several prominent geothermal basins while our experienced guide describes the park and its sights.
We stay in Old Faithful Village, which is located in the caldera of the world's largest active volcano and offers typical hotel amenities, including warm meals, comfortable study spaces, and an ice skating rink. The nearby interpretive center contains informational exhibit, and an auditorium in which resident researchers and rangers offer evening seminars on park-related topics. Over five miles of snow-covered boardwalks surround Old Faithful Village and there is no better way to view the hundreds of spectacular geothermal features than from cross-country skiing these boardwalks. Pristine backcountry features are located on single track trails away from the boardwalk, allowing students to get a private view of remote features few tourists ever see.
Throughout the trip, students are guided and supervised by Monarch School's own science teacher, Natty Role, who was an interpretive guide in Yellowstone, and social studies teacher, Alysoun Johnston, with her decade of park experience and related content knowledge.
The trip has special appeal to physically active students who are interested in science, history, and politics. Due to the inherent risks associated with winter conditions, geothermal areas and close proximity to wildlife, students must demonstrate an exceptionally high level of awareness and compliance prior in order to be eligible for the trip.
"Suggestions for the future: Longer! Longer! Longer! Trip should have been 6 or 7 days. Great trip, thank you so much." ~ Monarch School Student
"Thank you! I certainly had a very good time and saw some of the most beautiful things I've ever seen." ~Monarch School Student
for more information contact Monarch School
Phone: 406.847.5095