Back to Newsletter
All Kinds of News for November 09, 2016
Personnel Changes / Programming Evolution / Research / Buildings & Grounds / Trainings | Conferences / Programming | Trips | Visitors / The Lighter Side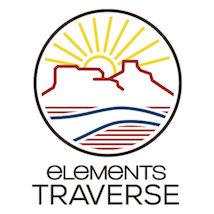 Elements Wilderness Announces Young Adult Wilderness Program
Published November 09, 2016Elements Wilderness Program
Category: Programming Evolution
Elements Wilderness Program is proud to announce the launch of a new young adult program, Elements Traverse, admitting clients as of November 8, 2016. Aligned with our core values of maintaining intentionally small and specialized treatment, Traverse is a program designed from the ground up to serve the needs of young adult males. Elements Traverse will be providing intervention, treatment and assessment for clients in central Utah for an average length of stay of 9 weeks in The Manti-La Sal National Forest and the San Rafael Swell.
As with our adolescent program, adult clients will benefit from some of the core principles that set Elements apart:
a hard cap on our group numbers and therapist caseload (max 9:1) to ensure truly individualized treatment and attention
adventure that is built into the framework of the program and largely happening in our own field of operation, ensuring continuity of treatment, where the experience is the focus, not the transitions
use of the Seven Challenges treatment modality to help our young adults take an honest evaluation of their relationship with substances and other maladaptive coping mechanisms
development of true coping skills using Dialectical Behavioral Therapy (DBT) to help our clients understand how to make the changes they want in their life
nearly limitless opportunities to work on the family system through our field visits and Family Focus run by family clinicians
For admissions questions please call John Karren at (801) 505-8481, or Andrew Powell (801)-361-7782.
Since 2008, Elements Wilderness Program has provided a specialized therapeutic intervention for adolescent boys aged 13-17. Elements prides itself in its ability to strike the best possible balance between evidence-based therapy and hands-on and fun experiential activity. We believe that the wilderness provides the best environment for our students and their families to drop their defenses and find a healthy path forward.