Back to Newsletter
All Kinds of News for November 09, 2016
Personnel Changes / Programming Evolution / Research / Buildings & Grounds / Trainings | Conferences / Programming | Trips | Visitors / The Lighter Side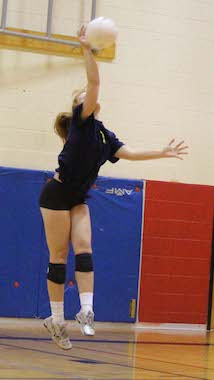 Heritage Girls and Boys Excel in Fall Sports
Published November 09, 2016Elevate Academy at Heritage Community
Category: The Lighter Side
The fall sports season wrapped up last week for both the boys flag football team and girls volleyball team. Each were very competitive this year and each played well into the play offs. Coached by Rachel Mitten, the executive assistant, the girl's team maximized their potential when their entire team was on the court. "This was by far the most talented volleyball team we've ever had" said Ian Petersen, Athletic Director at Heritage. "Typically we have one or two girls that have real experience on a volleyball team. This year we had four or five who knew what they were doing which made it difficult to find competition."
Heritage participates in the Utah School Sports Association (USSA) league comprised mostly of charter schools all over northern Utah. Unfortunately the playoff schedule didn't work out in their favor as two of the star players had home visits scheduled during the play offs. The girls ended in fourth place in the 16-team league after losing narrowly to Freedom Academy, a charter school located in Provo, Utah.
The boy's flag football team participates in the Provo Men's league and also went deep into the playoffs. Eight players are allowed on the field at any time and Heritage typically fields five students and three staff. Each year the team surprises the opposition who are made of adult teams. The team attributes their success to regular practice and organization. Highlights of the season included big plays on both sides of the ball by the students who think it is a lot of fun to play and compete with adults. They like to talk about those plays the following day at school. Contributing to the atmosphere is support from other homes and staff who come to support the team at their games.
Both teams will enjoy a team party in November before they turn their attention to basketball season in December.
Heritage is a non-profit residential treatment center located in Provo, Utah. Founded in 1984, Heritage specializes in the treatment of mood disorders and students diagnosed on the autism spectrum. Founder Jerry Spanos pioneered the relationship model Heritage uses with students. Our direct-care residential staff, who average 10 years of experience at Heritage, develop relationships of trust with students, guiding them to healthy, productive lifestyles. Our teachers, all special education certified, help students catch up on school credits and prepare for their continued education.