Back to Newsletter
All Kinds of News for April 05, 2017
Personnel Changes / Trainings | Conferences / Programming Evolution / The Lighter Side / Programming | Trips | Visitors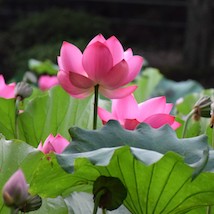 A Ginger's House Clinician's Take On The 12-Steps - Part 2
Published April 05, 2017Ginger's House - Extended Care and Transitional living for Women
Category: The Lighter Side
This is a continuation of a previous contribution, so please be sure to check out "Why All The Hostility Towards The 12-Steps? A Ginger's House Clinician's Take On The Steps" from the January 2017 newsletter. Part 1 looked at steps 1-3 and their similarities to the basic principles of counseling. The goal of "Part 2" is to share the basics of the steps 4-12, as well as clarify more myths and misunderstandings.
The 4th step is arguably the most talked about step in the program. It requires the most physical work and time commitment (imagine filling 5 or more spiral notebooks). Simply put it is a list of resentments. Most people will immediately think "Why do addicts get to write a long list about what they resent?" First, the list is only a small part. People also write about why they are resentful, what part of themselves is threatened (self-esteem, pride, ambitions, etc.), what was their role (fear, selfishness, blaming, etc.), and what they can do differently in the future. Secondly, it is the act of purging of the resentments that are festering inside the addict and often leads to justifying their use. Thus, it is imperative that they understand them and get them out. Ultimately, the completed 4th step highlights the areas of difficulty for the addict and the ways they are in control of their lives.
The 5th step is the act of reading the 4th step to a sponsor and can take several hours or days!
Steps 6 and 7 prepare people for the radicle changes they are about to make and recommitment to their higher power.
Steps 8 and 9 have to do with amends making. Many people will say "Amends should be the first step!" However, most people in recovery will tell you that they were not ready to make a single amends until they were further into their recovery. Most people wait over a year in order to make truly meaningful amends. By waiting the person in recovery has the ability to show they are living a healthy and productive life. Additionally, amends rarely involve the word "sorry." Rather they focus on restoring the wrong and often sound like "what can I do to make up for what I did?" In some cases the repair is easy to identify, if you stole 100 dollars, you give 100 dollars. However, more often than not people have to do "living amends." Meaning if they were rude, hurtful, and manipulative towards the person, they then commit to living as a kind, compassionate, and accepting individual. There are also the times were making amends is not possible or unkind. The best example of this is stealing from strangers, there is not easy way to make amends, so many people donate money to charity or volunteer to make amends.
Step 10 is something that most people in early recovery (the first several years) will do every day and then as needed. It focuses on the tenants of the 4th step, but is designed to prevent people from needing to create another long list. It asks people to look at what may have upset or angered them during the day and assess their part in it, as well as make immediate, direct amends if necessary. Many people will consider this a lifelong step. It basically says: "You're never done with your work!"
Step 11 serves to reconnect to a high power, which is something that crucial to the success of the 12-steps. This is not because of some belief that spirituality is the only way to be saved, but rather so that NO ONE can ever be alone with the challenges of sobriety. Additionally, this step brings in the use of meditation. Most people will incooperate some sort of daily meditation into their daily life as part of their sobriety. Over the last 20-30 years the therapeutic world has been very supportive of the development of mindfulness and meditation as a coping skill. Just remember that the 12-steps were formed almost 80 years ago, so they were clearly ahead of the trend!
The 12th and final step focuses on the importance of supporting the community and encourages people to continue to reach out and help others work the steps.
More information about the 12-steps can be found in "The Big Book," which was on the Smithsonian's list of the 88 book that shaped America with the likes of "To Kill A Mockingbird" and "Uncle Tom's Cabin." However, the best way to understand the 12-steps is to attend meetings. Anyone can attend meeting labeled "open" and there are even apps that lists all the meetings available nearby. To attend all you have to do is say you're there to listen and learn.
About Ginger's House
Ginger's House is a residential and extended care program for women ages 18-30, who are seeking support in maintaining sobriety while reentering the world. The focus of the comprehensive treatment program is on recovery from addiction to substances, eating disorders, sex and love addiction, trauma, anxiety, depression and other co-occurring disorders. Clients receive individual and group therapy services, medication management, life skills training, relapse prevention planning, art therapy and equine assisted therapy.