Back to Newsletter
All Kinds of News for August 09, 2017
Programming Evolution / The Lighter Side / Trainings | Conferences / Programming | Trips | Visitors / Personnel Changes / Research / Buildings & Grounds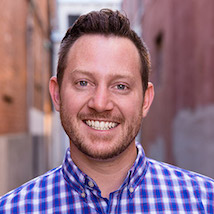 Living Well Transitions Clinician Presents On Mindfulness and Addiction Locally, and Nationally
Published August 09, 2017Living Well Transitions
Category: The Lighter Side
When one meets Living Well Transitions Life Skills Counselor Lauren Ciovacco, one immediately learns three things:
1. His smile is contagious
2. He's passionate about so many aspects of life and
3. He loves talking about his passions with others.
On Saturday, August 5, at the Arise Music Festival in Loveland, CO, Lauren spoke on a panel entitled Right Livelihood: Living & Working Mindfully After the Festival Ends. According to the organizers, the goal of the panel was to show "that there are many ways that one can live a mindful, creative, climate-conscious life, both socially and professionally." This topic plays out daily for Lauren, as his role at Living Well involves working with young adults to help them design a mindful way of living that supports their physical, emotional, social and financial health and functioning.
Next month, Lauren will be speaking at the Expanding Recovery for Young People Conference and Wellness Retreat in Asheville, NC, September 6th-8th. During a breakout session on Thursday, September 7, Lauren will present The Sanity of Addiction and The Power of Choice, where he examines the etiology and logic of addiction, as well as explores some of the advantages and disadvantages of traditional models of recovery. He will also examine the ways in which choice-based, self-directed models of treatment provide the opportunity for clients to move past symptom alleviation and into new forms of healthy relating in all areas of their lives.
For more information about Expanding Recovery for Young People, please contact dball@livingwelltransitions.com.
About Living Well Transitions
Living Well Transitions, in Boulder, CO, has been treating young adults like young adults since 2004, by offering intensive individual and group therapy along with life skills counseling to young adults ages 18-32 in a real-world, independent living environment. Living Well helps clients struggle less by developing self-acceptance, values clarity and the courage to take action, no matter the circumstance, so they can lead purposeful lives in alignment with their core values.