Back to Newsletter
All Kinds of News for December 06, 2017
The Lighter Side / Programming Evolution / Programming | Trips | Visitors / Buildings & Grounds / Trainings | Conferences / Personnel Changes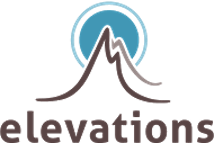 Elevations RTC Brings Speaker Ryan Sallans To Campus For Training and Seminar on Transgender Issues
Category: Trainings | Conferences
This November, Elevations RTC, a residential treatment center for teens ages 13-18, hosted internationally recognized transgender speaker Ryan Sallans for a two-day training and seminar on campus which educated staff, students and parents about the transgender experience and issues related to gender identity.
Ryan Sallans has spent the past 12 years providing training and seminars to staff and students in academic environments across the country.
Over the two day period, Sallans facilitated a keynote seminar delivered to students, staff-wide trainings, and support groups for LGBTQ students and their parents.
"The seminar and staff trainings were focused on helping everyone gain a better understanding of terminology around gender identity as well as creating a positive environment for transgender students on campus," comments Phyllis Tronrud, CMHC, Primary Therapist at Elevations.
Throughout his time at Elevations, Sallans spoke openly and candidly about his own experiences as a transgender individual, attributing therapy as a key component to his successful transition and positive mental health.
"I think it is great that Elevations had a transgender person come to talk to the students," says Eric, a student at Elevations. "These kinds of things help cisgender people to understand transgender people better, and understanding combats fear and hatred. In addition, there was an event specifically for transgender residents, which I felt was a great place for us to talk about things we were facing without fear of judgement, because everybody else understands it. It was also a great space for discussions about things transgender people as a group face, and things we are divided on. I believe every one of us walked out of that room with a greater understanding of each other and our community."
The information gained at Sallans' staff trainings will be implemented into new hire trainings for the upcoming year.
"We were so fortunate to have Ryan Sallans on campus to provide our staff, students, and parents with education and insight about the transgender experience," comments Judi Jacques, M.Ed, Executive Director of Elevations. "He provided us with such a great opportunity to make personal connections and to ask questions in a helpful and non-judgmental way that will allow us to better serve all of our students."
About Elevations RTC
Elevations RTC is a residential treatment center that offers guidance, support and relief to adolescents struggling with issues like trauma, depression, anxiety, mood disorders, behavioral problems, identity issues, and substance use. Elevations RTC is located in Utah and provides specialized, clinically intensive programs to struggling teens.