Back to Newsletter
All Kinds of News for January 11, 2017
Programming Evolution / Personnel Changes / Trainings | Conferences / The Lighter Side / Buildings & Grounds / Research / Programming | Trips | Visitors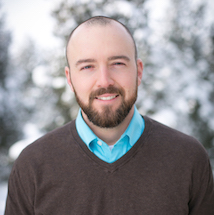 True North Welcomes Ryan Corbey to the Admissions Team
Category: Personnel Changes
True North Wilderness Program is thrilled to welcome Ryan Corbey to the team as the Associate Director of Admissions. Ryan will be working side by side with Courtney Merrill, Admissions and Outreach Director, to support all inquiries and admissions procedures for True North. We are looking forward to reconnecting you with Ryan, or introducing you to him for the first time at the National Association of Therapeutic Schools and Programs (NATSAP) conference in Tucson later this month. Ryan has great experience and a deep commitment to the work of wilderness therapy. He became intrigued by the value and challenge of outdoor adventure while participating in a NOLS course as a young adult, and found a great home working in wilderness therapy. He spent 200 days in the field as a guide before moving into the admissions role at a wilderness therapy program in the mountains of Utah, and feels that he has really found his niche in this role. Ryan loves helping families to understand the power of the wilderness and guiding them through the stressful and emotional process of enrolling their children. He is an avid outdoorsman himself and enjoys spending his spare time in various adventures with his wife and 3 year-old son.
Ryan can be reached at ryan@truenorthwilderness.com and at (970) 903-5905. You are welcome to reach out to him directly or to Courtney (courtney@truenorthwilderness.com, 202-494-0667) with any admissions questions.
About True North WildernessTrue North Wilderness Program is located in Waitsfield, Vermont and operates outdoors year-round, with heated indoor sleeping spaces in the winter. Serving adolescents and young adults and their families with a wide range of mental health, behavioral, and relational issues. True North provides assessment, intervention, and transitional planning during the 10-12 week average stay.