Back to Newsletter
All Kinds of News for July 12, 2017
Personnel Changes / Programming Evolution / Programming | Trips | Visitors / Trainings | Conferences / The Lighter Side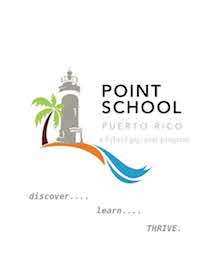 Point School Puerto Rico Announces New Leadership
Category: Personnel Changes
Point School Puerto Rico is excited to announce the development of brand new programming and a change in ownership and leadership. Over the past six months, Point School PR has reorganized ownership and worked vigorously to develop a Hybrid Gap Year Program designed specifically for young adult males, ages 18-22. Point School PR is targeting this population of young men who are planning to attend college but first need the support of an intentional gap year experience. This hybrid gap year integrates therapeutic and clinical components between completing high school and beginning their college career. Point School's young adult clients will be exposed to new experiences and ways of learning while also learning more about themselves. These young men are looking for an experience that will help bring intention into their life while setting themselves up to be successful in their pursuits after the gap year. The program will have a Spanish immersion component and will allow our students to gain experience and different perspectives and ways of life within an authentic Puerto Rican culture.
The Point School team, which includes new owners Jason Cox and Tim McMahon of Brightstone Transitions and Sean Rose of Breakthrough Consultation, have partnered with the previous stakeholders to ensure a smooth transition. Together, they have spent the last six months hiring and training staff and bringing in new leadership. Along with these personnel changes, the program has undergone a six-month redesign with a focus on serving a specific population while developing a "hybrid gap year."
Point School's appropriate student is the young man, aged 18-22 years old who has finished high school but is not quite ready to move into their college career. These young men are trying to figure out who they are and where they fit into in the world. Point School's gap year is not an alternative to a primary intervention such as wilderness therapy; however, it will serve as a supportive environment for young adults taking the next steps in their lives. Most of these students will have deferred their college plans and need extra layers of support while also having a transformative experience that they can use to launch themselves to adulthood.
About Point School Puerto Rico
Point School Puerto Rico is a one-of-a- kind Hybrid Gap Year Model that supports young adult male clients, 18-22 years old, who need support and direction with their independence. The program will challenge students' self-perceived limitations, while providing them a broader understanding of the challenges of adulthood, and a much deeper sense of their personal capabilities and ability to succeed. Through these opportunities and an increased sense of self competence and confidence, students will be ready to guide their continued growth and directions for their future independence. For more information on Point School Puerto Rico, please the website at pointschoolpr.com or contact Jason Cox at (347) 903-3781 or Jason@pointschoolpr.com.