Back to Newsletter
All Kinds of News for July 12, 2017
Personnel Changes / Programming Evolution / Programming | Trips | Visitors / Trainings | Conferences / The Lighter Side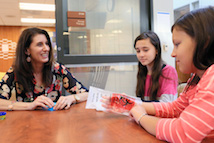 Williams House Continues to Grow Experience In Diagnosing and Treating PANDAS/PANS
Published July 12, 2017Lindner Center of HOPE
Category: Programming | Trips | Visitors
With Williams House at Lindner Center of HOPE's diagnostic expertise and specialized track for adolescents suffering with obsessive compulsive disorder (OCD), the treatment team has encountered a number of Pediatric Autoimmune Neuropsychiatric Disorder Associated with Streptococcus (PANDAS)/Pediatric Acute-onset Neuropsychiatric Syndrome (PANS) cases in the diagnostic process.

PANDAS is the sudden, rapid-onset of obsessive-compulsive behavior, as well as possible movement and behavioral abnormalities, following a Streptococcus pyogenes (Group A Strep) infection. The condition is thought to be the result of autoimmune antibodies mistakenly attacking an area of the brain, the basal ganglia, rather the intended infectious agent.

However, research indicates that Streptococcus pyogenes is not the only infectious agent to cause these sudden onset symptoms. In PANS, similar symptoms present due to other infectious agents, such as mycoplasma, mononucleosis, Lyme disease and the H1N1 flu virus. PANS can also include onset from environmental triggers or immune dysfunction.
Given the OCD-like symptoms of PANDAS and PANS, families often seek help in psychiatric settings like Williams House.

OCD-like symptoms include obsessions such as:
Fears of contamination
Pathological doubt
Unwanted thoughts
The need for symmetry, order and precision
And compulsions such as:
Excessive checking
Excessive cleaning
Counting
Ordering and arranging
Mental compulsions
In addition to OCD symptoms, PANDAS/PANS-specific symptoms may include:
Severe separation anxiety
Disordered eating
Urinary frequency
Tics and/or purposeless motor movements
Acute handwriting difficulty

Identifying PANDAS/PANS starts with the most noticeable criteria -- the abrupt, dramatic onset of OCD symptoms, either observed by clinicians or reported by parents. The next step is testing for active infections, especially strep. If the patient has both the acute-onset OCD symptoms and active infection, it may be PANDAS/PANS.

Treating PANDAS/PANS varies by the needs of the child. Prescriptions may include antibiotics, anti-virals or even steroids. Intravenous Immunoglobulin (IVIG) may also be recommended in some severe cases. Treating PANDAS/PANS also includes OCD therapies, such as cognitive behavioral therapy (CBT) and exposure and response prevention (ERP).

Even with treatment, symptoms may return, so surveillance is necessary. All family members must also be tested and treated to ensure the infection is eliminated from the home.
Additional resources include:
Ocdinkids.org/PANDAS
Pandasnetwork.org
About Lindner Center
Lindner Center of HOPE in Mason, Ohio is a comprehensive mental health center providing excellent, patient-centered, scientifically-advanced care for individuals suffering with mental illness. A state-of-the-science, mental health center and charter member of the National Network of Depression Centers, the Center provides psychiatric hospitalization and partial hospitalization for individuals age 12-years-old and older, outpatient services for all ages, diagnostic and short-term residential services for adults and adolescents, outpatient services for substance abuse through HOPE Center North location and co-occurring disorders for adults and research. The Center is enhanced by its partnership with UC Health as its clinicians are ranked among the best providers locally, nationally and internationally. Together Lindner Center of HOPE and UC Health offer a true system of mental health care in the Greater Cincinnati area and across the country. The Center is also affiliated with the University of Cincinnati (UC) College of Medicine.