Back to Newsletter
All Kinds of News for March 08, 2017
Programming Evolution / Programming | Trips | Visitors / Personnel Changes / Trainings | Conferences / The Lighter Side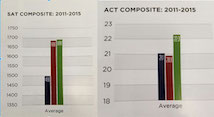 Discovery Academy Surpasses National and State Averages for ACT and SAT Exams
Published March 08, 2017Discovery Academy
Category: Programming Evolution
Provo, UT – Discovery Academy is pleased to announce the latest research results concerning the college preparation of its students. Discovery Academy studied the composite results from five years of data, 2011 through 2015. The research department at Discovery Academy then performed statistical comparisons of results from the American College Testing (ACT) college readiness assessment and the Scholastic Aptitude Test (SAT).
Discovery Academy compared the average results of its students to the National and State averages as published by the respective ACT and SAT organizations. Blue represents the National scores, Red represents the State scores, Green represents the Discovery Academy scores. You can view the whole report in a digital copy of the Academic Register produced by Discovery Academy and available anytime by contacting us directly.
"It is obvious that our students are prepared to enter college, if that is the direction they choose to go", says Laurie Laird, M.Ed. and Principal of Discovery Academy. "Executive Functioning is at the heart of our school process. Students develop the necessary cognitive skills and essentially learn how to learn."
Discovery Academy is a competency based Clinical Boarding School. Students are required to pass each chapter with an 80% proficiency or better before they move on to the next learning concept or principle. Students are also involved in personalized therapeutic treatment plans.
Laird reiterates, "Our outcome studies prove our school works for our unique student population."
About Discovery AcademyDiscovery Academy is located in Provo, UT. Licensed by the state of Utah as therapeutic boarding school since 1989. Providing services for troubled teens in gender specific treatment and a blended approach to education. As a treatment provider we are always looking at our outcomes. For more information please visit discoveryacademy.com