Back to Newsletter
All Kinds of News for March 08, 2017
Programming Evolution / Programming | Trips | Visitors / Personnel Changes / Trainings | Conferences / The Lighter Side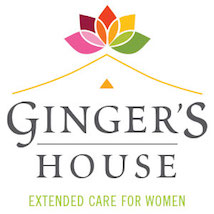 Spotlight on a Recent Graduate of Ginger's House
Published March 08, 2017Ginger's House - Extended Care and Transitional living for Women
Category: The Lighter Side
Sabrina is the most recent graduate of Ginger's House. She chose to continue her treatment by agreeing with the recommendation to enter transitional care after completing an inpatient drug and alcohol treatment program. At graduation, here are some things she had to say about her time at Ginger's House:
"I entered the program fearful that I would relapse. I was defensive, argumentative and self-seeking. I really struggled my first few months, but the staff were all so supportive. They were good at holding tight boundaries and being very respectful when they called me on my actions. I learned a lot about living with other people and social skills in general. They really support people with their recovery work.
But it also helps with your behaviors. They really helped me understand my behavior patterns and my negative effect on others. I learned a lot about how my family and upbringing contributed to my reactionary response to people. I identified and practiced a variety of ways to cope with my emotions, such as breathing exercises, meditations, and listening to classical music. I love the staff, the other women, and the house… Ginger's House saved my life. I also had a lot fun in the program. I loved the activities we'd do together. I will always remember spending the holidays there and really enjoying being sober for the first time in my life. "
Sabrina will be missed and we cannot wait to help the next woman to walk through our doors. The focus at Ginger's House is helping women who are in recovery from addiction and co-occurring disorders establish and reach values and goals in all areas of their lives. Ginger's House celebrates each individual for the special gifts they hold, pledging to provide comprehensive personalized care and guide women in discovering their individual beauty and what sustains long term sobriety for them.

About Ginger's HouseGinger's House is an extended care program for women ages 18-30, who are seeking support in maintaining sobriety while re-entering the world. The focus of the comprehensive treatment program is on recovery from addiction to substances, eating disorders, sex and love addiction, trauma, anxiety, depression and other co-occurring disorders. Clients receive individual and group therapy services, medication management, life skills training, relapse prevention planning, art and equine assisted therapy….and so much more! Please call us today to gather more information about our wonderful program.