Back to Newsletter
All Kinds of News for May 10, 2017
Programming | Trips | Visitors / Trainings | Conferences / Research / The Lighter Side / Programming Evolution / Personnel Changes / News From allkindsoftherapy.com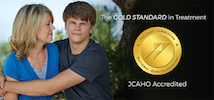 Newport Academy Receives Joint Commission's Gold Seal
Category: Programming Evolution
Newport Academy has received the Gold Seal of Approval® accreditation from the Joint Commission for Behavioral Health Care. The Joint Commission is the nation's oldest and largest health-care accrediting body, setting the highest standards for health-care quality. This accreditation demonstrates Newport Academy's commitment to excellence and unprecedented dedication to delivering effective, compassionate care to teens and their families struggling with mental health and substance abuse issues.
"We are honored to receive the Gold Seal from the Joint Commission. The incredible team at Newport Academy did an amazing job ensuring that we met every requirement necessary to substantiate our impeccable quality of care as the top teen treatment provider in the US. The dedication of our staff is unsurpassed in offering the highest level of care to our clients. This award is a true testament to the excellence and expertise the team provides in all areas of treatment." —Jamison Monroe, Founder and CEO of Newport Academy
Newport Academy meets the Joint Commission's rigorous performance guidelines for ensuring quality and safe care across all individual programs, including:
Residential: Newport Academy offers teen treatment in gender-specific male and female residential environments.
Outpatient: The Newport Academy Day Treatment and Outpatient programs support adolescent mental health, long-term recovery, and development of life skills.
Day Schools: Newport Academy offers unique day schools for teens, providing a nurturing, comprehensive educational environment. Teens are able to heal in mind, body, and spirit while gaining high school diplomas or college credit and setting attainable goals for the future.
Family Approach: The entire family participates in the treatment process at Newport Academy, through family therapy and ongoing communication between parents and the core treatment team.
The Joint Commission Gold Seal of Approval® guidelines will also assist Newport Academy to further elevate its treatment programs, as well as its unique holistic approach, which encompasses clinical therapy, academic support, and experiential practices, such as adventure therapy, horticulture, yoga, and culinary arts.
About Newport Academy Newport Academy is a series of evidence-based healing centers for adolescents and families struggling with mental health issues, eating disorders, and substance abuse. With locations across the United States, Newport Academy offers gender-specific, individualized, and comprehensive teen treatment programs that encompass clinical therapy, experiential modalities and academic excellence.Offerings include inpatient residential treatment, intensive outpatient programming, recovery-based therapeutic day schools, and day treatment. Newport Academy nurtures the physical, psychological, social, educational, and spiritual needs of adolescents and their families, from a foundation of compassionate care, clinical expertise and unconditional love.