Back to Newsletter
All Kinds of News for October 04, 2017
Personnel Changes / Programming Evolution / The Lighter Side / Programming | Trips | Visitors / Buildings & Grounds / Trainings | Conferences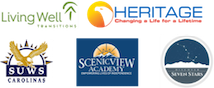 Living Well Transitions, Heritage, SUWS, ScenicView and Seven Stars to Host Sensory Suite at IECA
Published October 04, 2017Living Well Transitions
Category: The Lighter Side
Next month, Living Well Transitions, Heritage, SUWS of the Carolinas, ScenicView Academy and Seven Stars will team up to host the first, fully interactive Sensory Suite at the Independent Educational Consultant Association (IECA) Conference, November 15th-17th in Washington, DC. This suite will provide conference attendees the opportunity to take a break, relax and recharge, all while exploring their own individual sensory needs.
The Sensory Suite, located in the conference hotel, will be a quiet space, containing five distinct stations designed to help guests regulate their mood through various sensory experiences. These five stations include a Sight Center, a Tactile Center, a Proprioception/Vestibular Center, and an Olfactory Center which will provide beverages and snacks.
Dimming light bulbs and oil diffusers will be located throughout the suite to enhance the experience, and guests will be offered instruction for each station if requested. Access to the suite will be available during breaks in the conference schedule. Additional Sensory Suite announcements along with a full list of available times will be forthcoming.
About Living Well Transitions
Living Well Transitions, in Boulder, CO, has been treating young adults like young adults since 2004, by offering intensive individual and group therapy along with life skills counseling to young adults ages 18-32 in a real-world, independent living environment. Living Well helps clients struggle less by developing self-acceptance, values clarity and the courage to take action, no matter the circumstance, so they can lead purposeful lives in alignment with their core values.