Back to Newsletter
All Kinds of News for September 13, 2017
Programming Evolution / Personnel Changes / Trainings | Conferences / Programming | Trips | Visitors / Research / The Lighter Side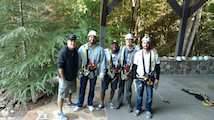 Next Chapter Incorporates Adventure Therapy into Irma Evacuation
Published September 13, 2017Next Chapter
Category: The Lighter Side
"The level of camaraderie and teamwork I have seen – not just amongst the clients, but amongst the entire staff, as well – is truly unparalleled," said Andy Silvagni, Lead Resident Manager.
After the devastating flooding in Texas, those living in Florida began preparing themselves for the worst, as soon as the destructive path of Irma was announced. Next Chapter Treatment is a residential treatment program, and both of the residential properties (as well as the clinical office) are located in Delray Beach, Florida. As soon as the word 'evacuation' came to the forefront of local media attention, Next Chapter began making arrangements to safely house their clients and Residential Managers in another state entirely. A safe house in Northern Georgia was booked for an entire week; however, the dedicated and compassionate clinical team did not stop there. They organized two outdoor adventures over the weekend (on September 9th and 10th), geared towards improving both morale and camaraderie.
The clients and Residential Managers went white water rafting in Tennessee on Saturday, and returned to the area on Sunday to zip-line. Everyone participated, and communal feedback after both experiences was exclusively positive. The clinical staff at Next Chapter organized both experiences as a means of continuing therapeutic work while away from a structured, daily schedule. Adventure therapy, an experiential and active approach to psychotherapy, utilizes an activity to strengthen interpersonal bonds, while bolstering self-esteem and encouraging pro-social behavior. Much of adventure therapy is grounded in positive risk-taking, and includes an activity that could be perceived as posing some degree of physical and psychological risk. Extensive research points towards adventure therapy as a successful treatment modality.
The clients do go on weekend excursions while living at the residential treatment center in Florida, participating in activities like snorkeling and kayaking. Adventure therapy is certainly a valuable component of the comprehensive, therapeutic program, which also includes modalities such as EMDR (Eye Movement Desensitization and Reprocessing), inner child work, breathwork, relational therapy, and numerous other experiential and traditional approaches. The Next Chapter program is a minimum of 3 moths long, and is open to men aged 18 and over. One of the residential properties houses younger men while the other houses the more mature clients. Since it first opened in 2015, Next Chapter quickly made a name for itself as one of the premier trauma treatment programs in the country.
About Next Chapter Treatment
Next Chapter Treatment is a male-exclusive trauma and addiction treatment center located in Delray Beach, Florida. Next Chapter has developed a unique and comprehensive program of recovery, which focuses on addictive disorders and personality disorders through the lens of trauma and attachment. Both highly individualized and family-oriented, the Next Chapter program caters to men of all ages, and is designed to help individuals overcome the past experiences that may be holding them back - while helping them to develop a strong sense of self and the interpersonal and life skills that they need to thrive.