Back to Newsletter
All Kinds of News for April 11, 2018
Personnel Changes / Programming Evolution / Trainings | Conferences / Buildings & Grounds / The Lighter Side / Programming | Trips | Visitors / Research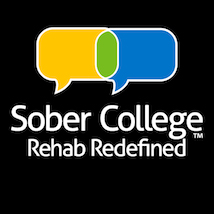 Register for the First Annual West Coast Collegiate Recovery & Supportive Programs Fair
Published April 11, 2018Sober College
Category: Trainings | Conferences
The Romeyn Collective and Sober College are co-hosting the First Annual West Coast Collegiate Recovery & Supportive Programs Fair, April 21 from 8:30a – 4:00p, in Los Angeles, CA.

"For many college-aged students, traditional colleges lack the support and individual attention they might need to succeed, especially if they are dealing with a mental health or addiction issue," says Jessica Romeyn, PsyD, founder of The Romeyn Collective. "We wanted to showcase Collegiate Recovery Centers and other Supportive Programs for college-aged students. This is a great resource for high school juniors and seniors, families and referring professionals."

"We are thrilled to have some amazing co-sponsors for this event," adds Holly Daniels, PhD, LMFT, Clinical Systems Director for Sober College, "and we're really excited to help bring the collegiate recovery and transitional treatment worlds together. The day is going to be lots of fun, with informative presentations and a raffle at the end of the day to win 3 free hours in the Sober College Music Studio to write and record your own song."
This is an all-day event for parents, students, and professionals and includes a student panel and sessions by mental health professionals.
Tickets are just $15, students attend for free.
Continental breakfast and lunch provided.
Professionals can earn 3 CE's throughout the day.
This event's co-sponsors include Red Oak Recovery (NC), Northbound, Red Mountain Sedona (AZ), Benchmark Transitions (CA), In Balance, Launch (AZ), Transcend Recovery Community (CA), and Dragonfly Transitions (OR).
Click here to register or find out more information.