Back to Newsletter
All Kinds of News for December 05, 2018
The Lighter Side / Programming | Trips | Visitors / Buildings & Grounds / Personnel Changes / Programming Evolution / Trainings | Conferences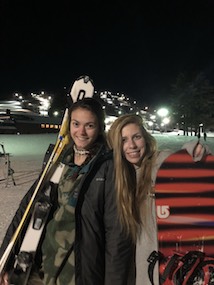 Shortridge Academy Launches 2019 Ski & Snowboard Program
Category: Programming | Trips | Visitors
With the arrival of winter, Shortridge Academy is excited to launch its ski and snowboard program for the 2019 winter season. Located in southeastern New Hampshire, the close proximity to both the seacoast and the mountains affords Shortridge students many unique outdoor recreational activities, but few are as popular as skiing and snowboarding.
Trips to Gunstock Mountain Resort for the Ski & Snowboard Club occur every Wednesday for an evening skiing on lighted trails, and every Saturday for a full day on the Mountain. All students are encouraged to participate, regardless of ability level. Options for lessons from a certified professional are also available.
For students who are not interested in skiing or snowboarding, the Shortridge Academy campus is conveniently situated on 350 acres of fantastic snowshoeing terrain, and plenty of other outdoor winter activities are available, such as ice skating, ice fishing, and sledding. When cold temperatures drive folks inside, their regular trips to local gyms are a welcome alternative to staying active during the frosty New Hampshire winters.
"It's one thing to go ski or snowboard once or twice a winter, but having the opportunity to go once or twice a week is really special and offers students the opportunity to hone their skills and demonstrate mastery in impressive ways." - Mik Oyler, Chief Operating Officer
If you would like more information about Shortridge Academy recreational opportunities or Residential Life, please contact COO, Mik Oyler at moyler@shortridgeacademy.com
About Shortridge Academy
Shortridge Academy is a private co-ed New England boarding school, founded in 2002, that emphasizes challenging yet supportive academics within a therapeutic community. Guided by the innovative Positive Youth Development model, we support the cognitive, emotional, and social development of bright yet struggling adolescents by utilizing clearly-defined, goal-directed plans, evidenced-based strategies, and a college preparatory curriculum. Joining with families, our trained staff engages students to identify their strengths and encourages the development of skills and knowledge that will prepare them for healthy and productive adulthood.