Back to Newsletter
All Kinds of News for July 11, 2018
Trainings | Conferences / Programming Evolution / Programming | Trips | Visitors / The Lighter Side / Buildings & Grounds / Personnel Changes / Research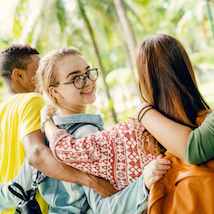 EDGE Implements a Princeton University Wellness Tool
Category: Programming Evolution
EDGE Learning and Wellness Collegiate Community recently introduced a new self-assessment tool to its program to help its students identify and reflect on their overall wellness in seven identified dimensions. Originally developed by Princeton University as part of their UMatter initiative for Princeton students, the assessment helps individuals contemplate components of their health that they previously may not have considered.
Throughout the self-assessment, EDGE students use a point system to answer specific questions about their current habits that are reflective of the seven dimensions of wellness — emotional, environmental, intellectual, occupational, physical, social and spiritual. Students then work with EDGE Therapeutic Life Coaches to reflect on their individual results, develop specific goals and create action plans to maintain stable habits and improve wellness in identified areas of need.
The seven dimensions of wellness have always been an integral aspect of EDGE's programming. However, the implementation of the wellness self-assessment tool further benefits students by providing a clear and quantifiable portrait of their overall wellness levels.
"Success in academics and in life is a function of a number of integrated factors, and it can be easy to lose sight of this and focus only on one identified area of need," said Executive Director of EDGE Programs David J. Ventrelle, Psy.D. "EDGE has consistently worked with our students to maintain an emphasis on the integration of each of these areas, and the wellness self-assessment tool gives them a more objective way of reflecting on their progress in each dimension. We are grateful to Princeton University for providing permission to utilize this tool with our students."
EDGE frequently holds discussions with its students to emphasize that the journey to wellness lasts throughout an individual's lifetime. The collegiate community will continue to find new methods to help its students develop decision-making skills that will support a more balanced life in college and beyond.
About EDGE Learning and Wellness Collegiate Community
EDGE Learning and Wellness Collegiate Community is an accredited transitional living program located in Chicago, IL. EDGE offers therapeutically supported residential and non-residential options for post-treatment young adults. The participants, ages 18 -24, are striving to excel academically, while creating a life of balance, joy and wellness.