Back to Newsletter
All Kinds of News for July 11, 2018
Trainings | Conferences / Programming Evolution / Programming | Trips | Visitors / The Lighter Side / Buildings & Grounds / Personnel Changes / Research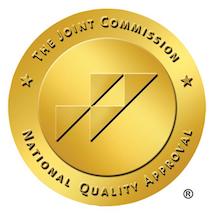 Gateway Academy Earns Joint Commission Gold Seal of Approval
Category: Programming Evolution
Gateway Academy is thrilled to announce that it has earned The Joint Commission Gold Seal of Approval. Gateway Academy believes that it takes an entire team to have a successful Joint Commission survey, and they are proud of every member of the team and their hardwork. Gateway underwent a rigorous onsite survey, reviewing compliance with behavioral care standards, including care, treatment and services; environment of care; leadership; and screening procedures for the early detection of imminent harm.
The mission of Joint Commission is to "To continuously improve health care for the public, in collaboration with other stakeholders, by evaluating health care organizations and inspiring them to excel in providing safe and effective care of the highest quality and value." The organization accredits nearly 21,000 different health care organizations and programs in the United States. Gateway Academy is a trusted, sophisticated residential treatment program for teanage boys, committed to providing exceptional care for our students and their families. Since Gateway Academy already had a license from the State of Utah, this is a higher level of accreditation to ensure quality standards.
About Gateway Academy
Gateway Academy in Utah, is dedicated to the healthy development and healing of adolescent boys and their families. We provide a safe and nurturing environment through five integrated programs: Therapy, Academics, Community, Outdoor Education and Fitness. With integrity and respect, we help students feel empowered and valued, build healthy relationships, make thoughtful decisions, develop life skills, become life-long learners and achieve their personal best.