Back to Newsletter
All Kinds of News for March 07, 2018
Programming Evolution / The Lighter Side / Programming | Trips | Visitors / Personnel Changes / Trainings | Conferences / Research / News From allkindsoftherapy.com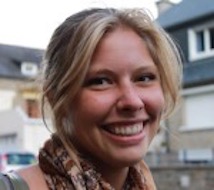 Shortridge Academy Introduces Healthy Lifestyle Counselor Alexandra Crosby
Category: Personnel Changes
The Shortridge Academy clinical team is expanding with the addition of Alexandra "Lexie" Crosby, in her newly created role of Healthy Lifestyle Counselor. Lexie holds a master's degree in social work from the University of New Hampshire, combining interests in both systems-oriented macro work and individual clinical services. She has previously worked as a behavioral intervention specialist, and has experience working with children and young adults in schools as well as therapeutic settings.
In her important new role, Lexie is responsible for creating and maintaining systems for the Healthy Lifestyle Goal, one of the seven goals of Shortridge Academy's innovative Positive Youth Development model. Lexie has already hit the ground running, designing and promoting healthy trips and activities, coordinating interdepartmental health initiatives with the Shortridge Academy Health Center, providing enhanced support for students struggling to achieve their healthy lifestyle goals, and performing various other functions within the clinical department, such as individual and group therapy.
"I am thrilled to be synthesizing my interests and skills to empower Shortridge students to reach their potential. I'm also excited to teach students how much fun we can all have though healthy choices." Lexie's professional interests include advancing social justice, environmental sustainability, and primary prevention methods. Her personal interests include hiking, kayaking, swimming and cooking.
About Shortridge Academy
Shortridge Academy is a private co-ed New England boarding school, founded in 2002, that emphasizes challenging yet supportive academics within a therapeutic community. Guided by the innovative Positive Youth Development model, we support the cognitive, emotional, and social development of bright yet struggling adolescents by utilizing clearly-defined, goal-directed plans, evidenced-based strategies, and a college preparatory curriculum. Joining with families, our trained staff engages students to identify their strengths and encourages the development of skills and knowledge that will prepare them for healthy and productive adulthood.