Back to Newsletter
All Kinds of News for November 07, 2018
The Lighter Side / Personnel Changes / Programming | Trips | Visitors / Programming Evolution / Research / Trainings | Conferences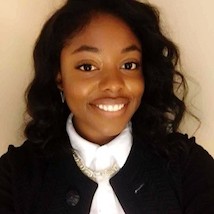 EDGE Learning and Wellness Announces Latest Addition to Its Team
Category: Personnel Changes
EDGE Learning and Wellness Collegiate Community is thrilled to welcome its latest team member, Candace McGee, MA. Candace has joined the program as an EDGE Therapeutic Life Coach.
Candace earned her Bachelor of Arts in Psychology from Purdue University in 2009. She continued her academic career at Adler University Chicago, earning her Master of Arts in Marriage and Family Therapy in 2013. Candace has since gained diverse experience in the counseling world providing experiential, trauma-informed therapy to individuals, couples and families. Through her work, Candace has become skilled at attuning and upholding relational integrity as a part of the growth process.
"I love the role of being the hope holder," said Candace. "The adventure of learning what someone wants and exploring the paths to get there motivates me every day."
Candace makes it a priority to build a strong relationship with all EDGE students as she begins coaching them. After trust is established, she provides guidance and collaborates with students to develop, discuss and maintain goals.
One of Candace's own goals as she works with students at EDGE can be summed up with the "GRIT" acronym. "I hope to see these young adults emerge from the program even more grateful, resourceful, intentional and tenacious than when they started," said Candace. "I want them to meet their personal growth goals in all areas of life."
As an EDGE Life Coach, Candace lives with the program's student community. This allows her to set the tone for a healthy environment where individuals can learn and thrive on a social level. Candace maintains this milieu with other EDGE Life Coaches by facilitating group check-ins, weekly community meetings and twice-monthly group outings.
In her free time, Candace loves traveling, taking photographs, decorating her friend's spaces and spending quality time with loved ones.
About EDGE Learning and Wellness Collegiate Community
EDGE Learning and Wellness Collegiate Community is an accredited transitional living program located in Chicago, IL. EDGE offers therapeutically supported residential and non-residential options for post-treatment young adults. The participants, ages 18 -24, are striving to excel academically, while creating a life of balance, joy and wellness.