Back to Newsletter
All Kinds of News for August 07, 2019
Programming | Trips | Visitors / Personnel Changes / Programming Evolution / Trainings | Conferences / The Lighter Side / Buildings & Grounds / Research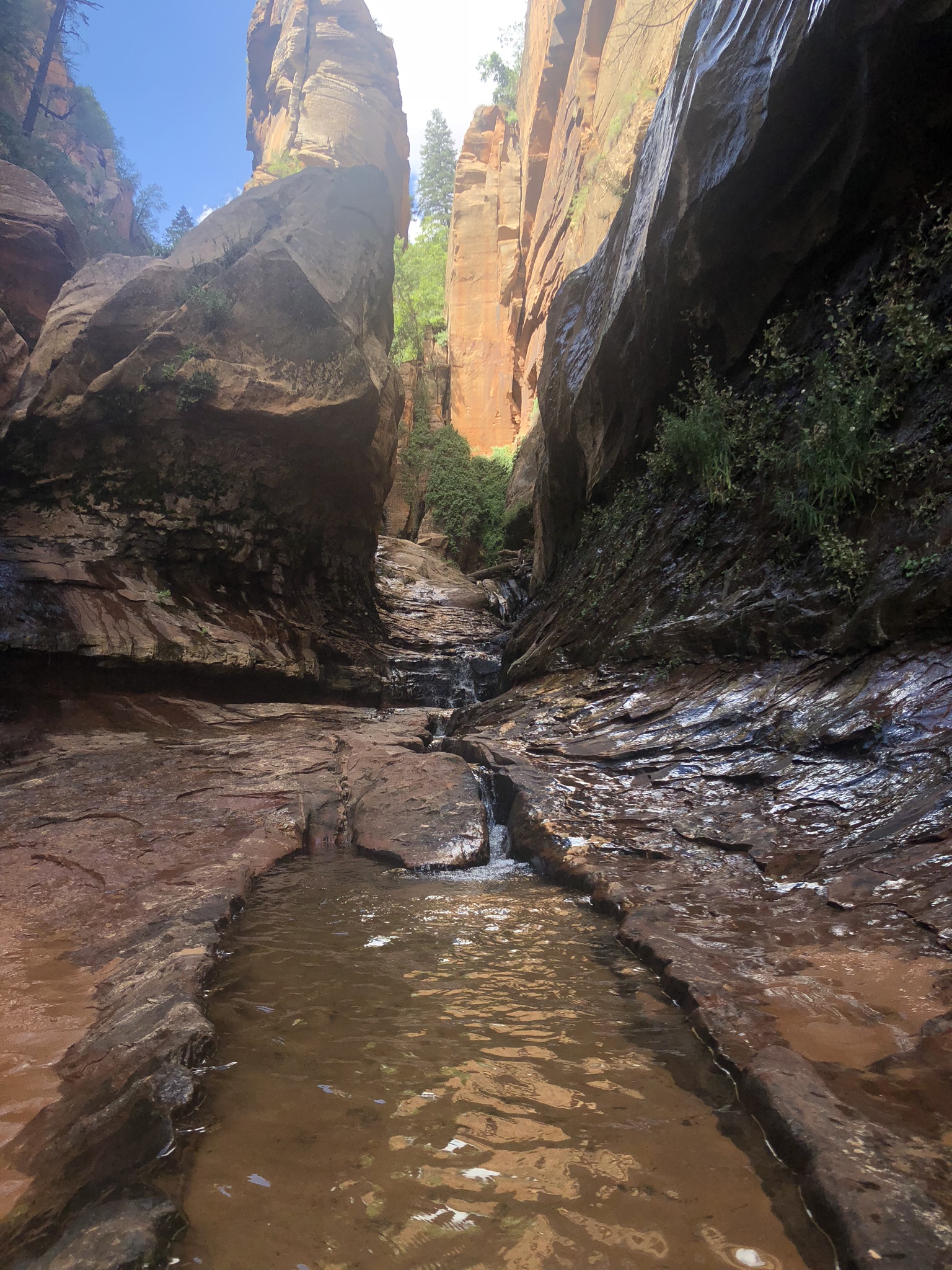 ATC Clinical Team's Monthly Excursions with Clients
Category: Programming | Trips | Visitors
Each month, the ATC clinical team facilitates an all-day experiential activity utilizing the spectular outdoor resources available within close proximity to their St. George, UT location. The purpose of these excursions are
to get young adult clients outdoors in some unique corners of Southern Utah while getting them out of their residences and off their electronic devices;
to faciliate co-ed social connection and build an overall stronger sense of community;
to provide clinicians greater opportunity to build relationships with clients outside of the traditional therapy office and relationship;
to gain additional data and assessment through observation and experiential activity with their clients and. most importantly
to give non-clinical staff a well deserved day off of work!
Last month we traveled east, close to the Utah-Arizona border to hike Water Canyon in the Canaan Mountain BLM wilderness area. Water Canyon follows a ravine containing a flowing stream, following through a succession of beautiful cascades, pools and slot-like passageways that culminates in a narrowing sandstone slot canyon with cascading waterfalls. The cool stream provided a great respite from the summer heat and all enjoyed the opportunity to explore this amazing canyon together. For those who have experienced wilderness therapy, we know all too well the therapeutic opportunities that hiking can provide.
Excursions in the next several months include:
enjoying the forest landscape and cooler temperatures in the Pine Mountain Recreation Area;
fishing, cliff jumping, kayaking and paddleboarding at Gunlcock Reservoir;
exploring the majestic Zion National Park; and
rappelling and rock climbing in Moe's Valley.
About At The Crossroads
At The Crossroads is a transitional program for young adults utilizing a highly individualized and client centered approach to treatment. Upon enrollment, each client is assessed to formulate a treatment plan unique to his or her strenths, challenges, needs and goals. Our multi-disciplinary team comprised of highly trained professionals aims to honor each young adult as a distinctive individual. There are no two pathways to success that will be exactly the same and therefore we, as a team with the client, navigate towards individuated success.