Back to Newsletter
All Kinds of News for February 06, 2019
The Lighter Side / Programming | Trips | Visitors / Trainings | Conferences / News From allkindsoftherapy.com / Programming Evolution / Personnel Changes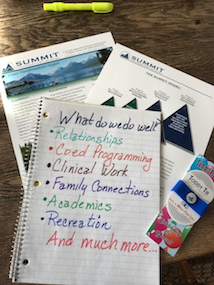 Summit Prep Asks… What do You do Well?
Published February 06, 2019Summit Preparatory School
Category: The Lighter Side
This past week, in San Antonio, Texas, was the Annual National Association of Therapeutic Schools and Programs Conference, more commonly know as NATSAP. It was a time where several hundred therapeutic professional colleagues got together to gain knowledge from the many sessions, have some face to face time with Educational Consultants and program people, and to reconnect with old friends while forming new friendships.
During one of the meeting time with consultants, Summit Prep's Executive Director Todd Fiske and Clinical Director Tim Corson shared some of the great things that are happening on campus. They talked about their plan to enhance parent programming, the changes they are making in the program calendar, Summit Prep's great academic and clinical teams and of course the newest addition… the Arts Studio. In listening to these discussions it was a reminder of an all staff activity that Summit Prep has done throughout the years where folks talk in groups about what is going well on campus and also where is there a need for improvement.
The setting for these groups is typically an all staff meeting and the participants are divided into small groups. The diversity of the groups are planned so that each group has at least one director, one teacher, one therapist, and one residential staff. The groups are then given the task to discuss and record their thoughts on the day-to-day campus happenings. Typically the discussions are high energy, engaging and positive. The recorded information is then compiled and presented at future meetings.
One might ask if this is necessary to go through a drill such as this. The programs in the therapeutic industry are doing many great things, and yet when daily routines and expectations pattern out, some of the great things that are happening may be overshadowed. Discussion groups like this give a new perspective to the wonderful things that are happening on a campus and they provide a forum for positive affirmation. So you might want to ask "What do we do well?" at your next staff gathering.
About Summit Preparatory School
Summit Preparatory School is an accredited private, non-profit, co-ed therapeutic boarding school located on 520 acres near Kalispell, MT. Summit integrates professional therapy and college prep academics within a nurturing and dynamic community that energizes and challenges adolescents to succeed and transform their lives. Grounded in the concepts of the Summit Model, the program focuses on promoting the development of healthy psychological and social skills. The campus is close to Glacier International Airport (FCA) and is less than an hour from Glacier National Park.