Back to Newsletter
All Kinds of News for July 10, 2019
Programming Evolution / Programming | Trips | Visitors / Personnel Changes / Trainings | Conferences / The Lighter Side / Research / News From allkindsoftherapy.com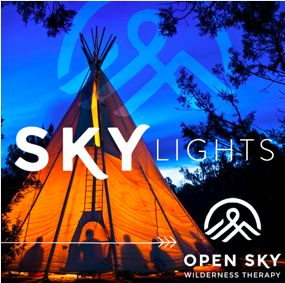 Open Sky Wilderness Launches SKYlights Podcast
Category: The Lighter Side
Open Sky has recently launched its SKYlights podcast. In each episode of SKYlights, Open Sky Co-founder and Executive Director Emily Fernandes, LCSW, speaks with experts in the field of wilderness therapy, exploring the unique value that nature provides on the journey toward wellness, self-discovery, and growth.
Emily thoughtfully guides conversations with clinical, family services, field, and operations staff, as well as and other experts about important topics related to wilderness therapy and Open Sky's family-centered approach. The model at Open Sky integrates the latest in evidence-based clinical studies with innovative, research-driven mindfulness and holistic healing practices.
Emily, a Licensed Clinical Social Worker, is well-suited to connect with guests on these topics, based on her depth of experience in wilderness therapy. Emily began her journey towards wilderness therapy in 1995 on a NOLS course. She then gained experience as a Field Guide and Director for Aspen Achievement Academy and worked for Hurricane Island Outward Bound School and Connecticut Wilderness School. She helped found Open Sky in 2006 and worked for five years as a lead therapist with adolescent girls. Her areas of clinical expertise include anxiety, depression, grief and loss, self-harm, trauma, and adoption and attachment issues.
"I'm thrilled to have the opportunity to talk with such dynamic and passionate professionals about topics related to wilderness therapy," said Emily. "I'm grateful for this platform to share our conversations with a larger audience. It's exciting that SKYlights podcast offers a unique perspective on the meaningful work happening at Open Sky."
New episodes of SKYlights are released bi-weekly, with select episodes available wherever you get your podcasts. For more information and to subscribe to the SKYlights podcast, please visit Open Sky's podcast page. Here, you can also access episode previews, guest profiles, and more information about the topics covered.
About Open Sky Wilderness Therapy
Nestled in the mountains of southwest Colorado and the Canyonlands of southeast Utah, Open Sky transcends traditional wilderness therapy with an approach that emphasizes treatment for the whole family. When a family partners with Open Sky, they embark on a rewarding adventure of self-discovery and learn a range of strategies that promote lasting success. The Open Sky clinical approach utilizes the latest in evidence-based clinical modalities integrated with innovative, well-researched mindfulness and holistic healing practices. Therapists develop treatment plans, provide individual and group psychotherapy, and update families each week via teleconference. Students participate in daily process groups and a wide range of experiential activities designed to increase awareness and facilitate growth.