Back to Newsletter
All Kinds of News for March 06, 2019
Programming | Trips | Visitors / Trainings | Conferences / Personnel Changes / Research / The Lighter Side / Programming Evolution / Buildings & Grounds / News From allkindsoftherapy.com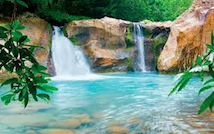 Summit Prep Students Announces Costa Rica Trip
Published March 06, 2019Summit Preparatory School
Category: Programming | Trips | Visitors
Summit Preparatory School is excited to announce the 2019 trek to the beautiful Central American nation of Costa Rica. Plans are in the making for the Annual International Trip. Students and staff will set out May 11-20, 2019. The school is partnering with Breakwater Expeditions, a company that specializes in adventure based trips for youth.
All interested students are writing up proposals to their treatment teams, hoping to secure one of the spots on the trip. A true nature lover's paradise, Costa Rica offers 800 miles of shoreline and vast stretches of protected rain forest and reserves. Students will stay at an ecolodge and explore the biodiversity of the region, while also leveraging the opportunity for adventure based activities including zip lining and two days of surfing. If you would like more information on this wonderful opportunity please contact Liann Ainsworth at lainsworth@summitprepschool.org.
For the past 5 years, Summit Prep students have had the opportunity to participate in a variety of International Trips. Each trip is designed to be educational, therapeutic, and fun. For more information about other trips that have happened, please click here.
About Summit Preparatory School
Summit Preparatory School is an accredited private, non-profit, co-ed therapeutic boarding school (TBS) located on 520 acres near Kalispell, MT. Summit integrates professional therapy and college prep academics within a nurturing and dynamic community that energizes and challenges adolescents to succeed and transform their lives. Grounded in the concepts of the Summit Model, the program focuses on promoting the development of healthy psychological and social skills. The campus is close to Glacier International Airport (FCA) and is less than an hour from Glacier National Park.