Back to Newsletter
All Kinds of News for November 06, 2019
The Lighter Side / Programming Evolution / Personnel Changes / Buildings & Grounds / Programming | Trips | Visitors / Trainings | Conferences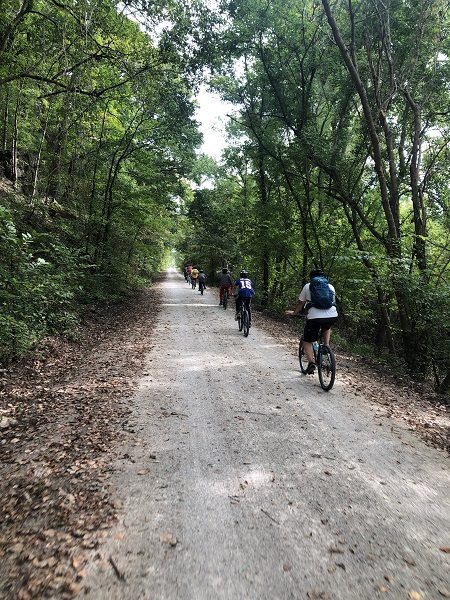 Calo Teens Embark on 100 Mile Cycling Trip
Category: Programming | Trips | Visitors
Calo's teen boys and girls, along with their Adventure Therapy and residential staff, set and achieved the ambitious goal of cycling 100 miles together.
As the leaves chang color and the weather turned cool in Missouri, the Calo students set out on the Katy Trail, a rails-to-trails path that spans 240 miles across the center of Missouri. Starting on the western side of the trail, the groups spent three days and two nights cycling and camping to Missouri's Capitol in Jefferson City. The trip included 36.5 miles the first day, 50 miles the second day, and finished strong with the last 13.5 miles on the third day with a celebratory dinner in downtown Jefferson City.
While venturing through the Setting and Achieving Goals sequence within the Adventure Therapy Program, students learn and discuss what it means to set specific, measurable, achievable, relevant and time bound (S.M.A.R.T.) goals. How to plan, prepare, and break down large goals in order to achieve those more audacious goals is also a part of the journey. First, regarding the 100-mile cycling trip, and then applying it to other goals in their lives.
Aside from the physical goal of 100 miles, each staff and student involved in the Adventure Therapy Program focus on three outcomes through engineered experiences:
Creating self-efficacy
Stepping out of the Comfort Zone and into the Growth Zone together
Having positive shared experiences, which lead to experiencing Joy
Learn more about Adventure Therapy at Calo Teens by visiting https://caloteens.com/adventure-therapy/.
About Calo Programs
Calo Programs (www.caloprograms.com) is a unique organization comprised of an extraordinary family of programs, all dedicated to healing the effects of early trauma. Calo is a leading network of clinical and therapeutic programs that offers a comprehensive set of services focused on cutting edge, trauma-based interventions.
All Calo programs implement a unique and truly relational treatment model based on the science of neurobiology and evidence-based attachment and trauma treatment research. Calo's proprietary Developmental Trauma CASA Treatment Model and Clinical Structure is pervasive throughout the programs. The unique model facilitates establishing, deepening and maintaining healthy and safe relationships that ultimately lead to co-regulation and Joy.