Back to Newsletter
All Kinds of News for October 09, 2019
Programming Evolution / Programming | Trips | Visitors / Research / Personnel Changes / The Lighter Side / Buildings & Grounds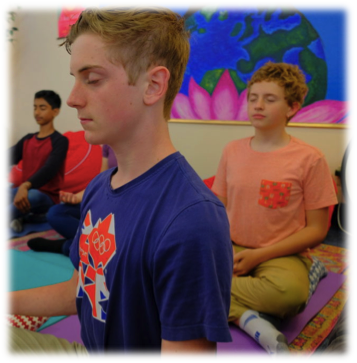 Integration of Mindful Learning into Gateway Academy's Academic Curriculum
Category: Programming Evolution
It is well known how important social and emotional learning (SEL) is for youth, particularly as they navigate the adolescent stage of development. In particular, research completed over the last 10 years has found that teaching a developmentally appropriate mindful awareness curriculum in school "can infuse all five dimensions of SEL (self awareness, self management, social awareness, relationship skills, and responsible decision making) with more depth, and potentially, greater reach and sustainability." (Greenberg, 2014; Lawlor, 2016 cited in Broderick, 2019; See also https://casel.org/core-competencies/).
Recognizing the significant benefits that mindfulness training provides to our students, the academic team at Gateway Academy added an evidenced-based mindfulness curriculum into our students' school schedules. In researching a variety of mindfulness programs, it became clear that our approach must be research-based and taught in accordance with the CASEL's (Collaborative for Academic, Social and Emotional Learning) "SAFE" standards (Sequenced, Active, Focused, Explicit), in order to ensure the highest possibility of augmenting our student outcomes.
Accordingly, Gateway clinicians and teachers have been trained and certified to integrate mindfulness into all aspects of therapy and programming, and to incorporate mindful learning into the academic curriculum. Such training includes completion of an 8-week Mindfulness Based Stress Reduction (MBSR) program, and a 3-day training designed specifically for teachers to provide mindfulness instruction based on a CASEL-approved mindfulness curriculum for adolescents. Further, to maintain certification after initial completion of MBSR, clinicians, teachers and our management staff participate in quarterly 2-hour refresher trainings.
Numerous neuroscientific studies on mindfulness show that mindfulness interventions not only enhance treatment efforts but also, when taught in school, can reduce emotional distress, promote emotional balance, improve attention and increase motivated learning. (Broderick, 2013). Implementing our mindfulness curriculum at Gateway has been a complex but rewarding experience in further integrating our academic and clinical teams. More importantly, it has given our students another way to make empowering connections between the skills they learn in therapy and the content they are learning in school. Through their participation in our mindfulness program both in therapy and in school, our students have shown improvement in their ability to sustain attention, regulate their emotions, develop critical thinking and problem-solving skills, that has not only enhanced their academic achievement, but their overall well-being as well.
References:
Broderick, Patricia C. (2019). Mindfulness in the Secondary Classroom: A Guide for Teaching Adolescents (SEL Solutions Series). New York, NY: W.W. Norton & Co.
Broderick, Patricia C. (2013). Retrieved from https://www.kqed.org/mindshift/31291/why-teaching-mindfulness-benefits-students-learning.
Davidson, L. L. et. al. (2011). State-level indicators for social-emotional development: Building better systems. National Center for Children in Poverty. Retrieved from http://www.nccp.org/publications/pdf/text_997.pdf.
Siegel, D.J. (2012). Pocket guide to interpersonal neurobiology: An integrative handbook of the mind. New York: W.W. Norton & Co.
About Gateway Academy
Gateway Academy in Utah, is dedicated to the healthy development and healing of adolescent boys and their families. We provide a safe and nurturing environment through five integrated programs: Therapy, Academics, Community, Outdoor Education and Fitness. With integrity and respect, we help students feel empowered and valued, build healthy relationships, make thoughtful decisions, develop life skills, become life-long learners and achieve their personal best.