Back to Newsletter
All Kinds of News for September 11, 2019
The Lighter Side / Programming Evolution / Personnel Changes / Programming | Trips | Visitors / Trainings | Conferences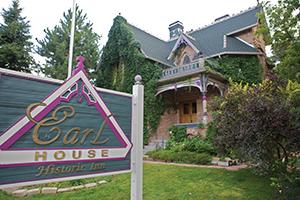 AIM House Introduces Streamlined Clinical Services
Category: Programming Evolution
AIM House is excited to announce that clinical services are now in-network with several insurance companies! Although no major shifts have been made to the AIM House profile or ideology, the ability to create a more focused and curriculum-based clinical continuum will help to ensure AIM participants receive the best possible therapeutic and psychiatric services.
Mentoring and executive functioning support, as well as academic, vocational and creative coaching, still remain essential cornerstones of the AIM House program. In addition, AIM participants have access to the vast resources in Boulder, including Madelife's Creative Accelerator programs and the University of Colorado.
Many in the industry will remember the beautiful, historic "Earl House" in North Boulder, which in the past housed the young women's program. This building has now been repurposed into Boulder Integrated Health (BIH). BIH is a fully-licensed Intensive Outpatient Program serving the greater Boulder community as well as the University of Colorado. BIH is also where AIM House participants will be receiving a focused, therapeutic curriculum, designed specifically for AIM House. All AIM House groups run at BIH will be private and specific to those in the residential program; including both a mental health and substance abuse track with access to experiential groups such as equine therapy and acu-detox. The focused curriculum, including group and individual therapy, is designed to take place during the first phase of AIM House, so as to provide structure and momentum on the front end of a participant's program. After the eight-week curriculum is complete, individual and family therapy will continue throughout the duration of the program.
Above all, leadership and staff are proud to be celebrating our 20th anniversary by enhancing the approach at AIM House.
Founded in 1999, AIM House is a transitional living program located in Boulder, Colorado. Young adults come from wilderness therapy programs, residential treatment programs, therapeutic boarding schools and drug and alcohol treatment centers. Mentors and therapists work with each participant to create an individualized program that meets the needs of the participant and their family. Participants have access to a large variety of educational institutions, including the University of Colorado Boulder. AIM House also offers executive functioning support, vocational coaching, and personalized artistic and entrepreneurial mentorship.