Back to Newsletter
All Kinds of News for January 08, 2020
Trainings | Conferences / Programming Evolution / Personnel Changes / Research / Programming | Trips | Visitors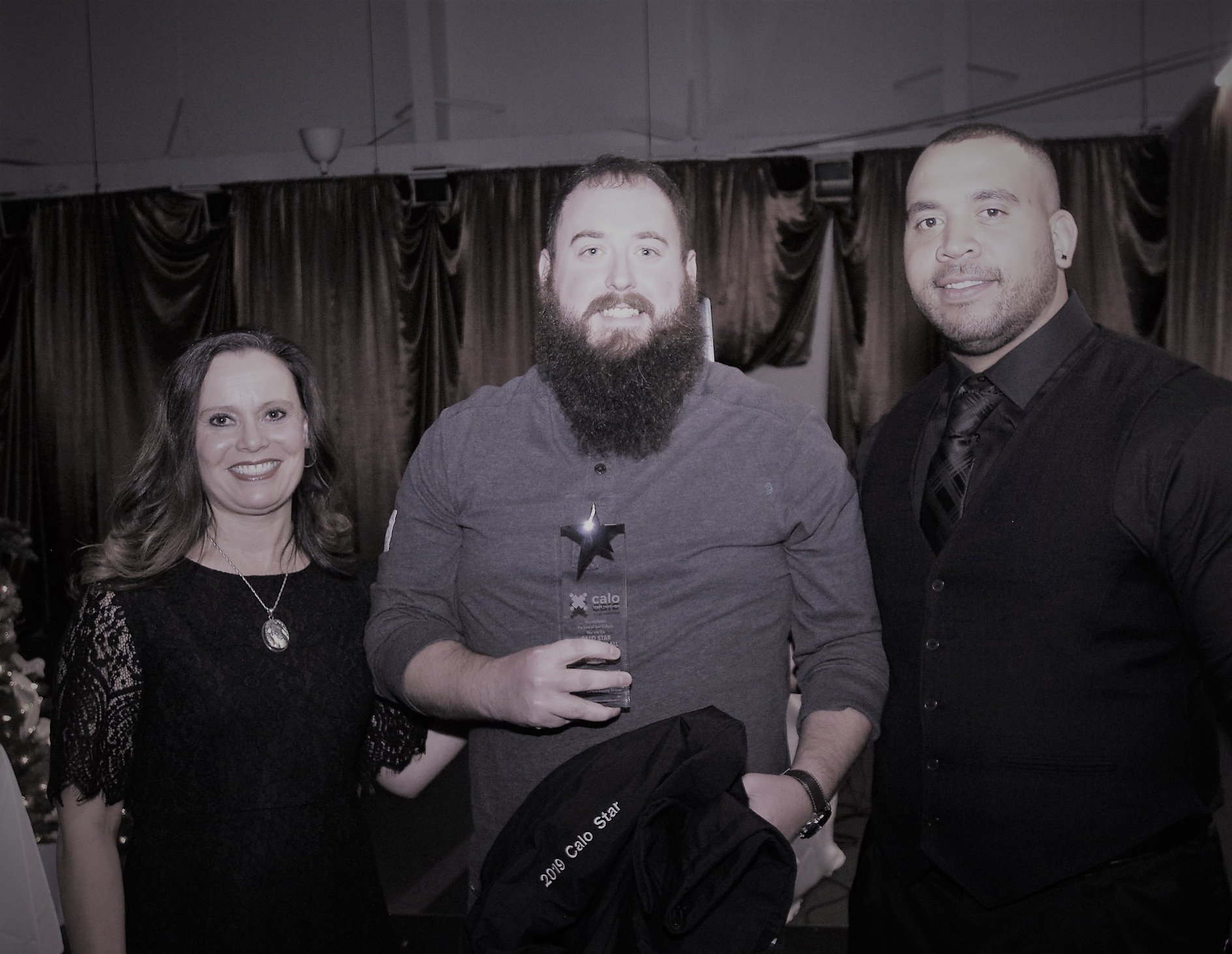 Calo Programs Presents Zach Vogus with Calo Star Award
Category: Personnel Changes
On December 6th, 2019 Calo Teens and Calo Preteens hosted their Annual Calo Holiday Party where the Calo Culture Awards are presented to multiple staff in the areas of empathy, service, trusting relationships, growth and results. The Calo Star is the highest annual award and recognizes a Calo employee who represents the best of Calo, and lives and models a combination of all of Calo's Core Values. Calo named Residential Manager Zach Vogus the winner of the prestigious Calo Star Award.
"The Calo Star award is the highest honor for a Calo staff and is given to a staff member who is the embodiment of the Calo Core Values of empathy, service, trusting relationships, growth and ultimately results for the families we serve," says Nicole Fuglsang, CEO and Co-Founder of Calo Programs. "Zach's contribution to the Calo community always goes above and beyond what is asked, and he exemplifies all of our core values making him our 2019 Calo Star. Zach is a humble worker, yet hungry for chances to learn and grow. The Calo culture is greatly shaped by his example and his encouragement to others."
In addition to Zach's Calo Star Award, see below for more winners. All winners are nominated by their peers and selected by campus leadership.
Empathy Award: Therapist, Tom Belshe, for his heart of peace and empathetic nature.
Roger Turner Service Award: Maintenance Staff, Seth Rechenbacher, for his heart of service and willingness to always jump in the mud with students.
Red Wall Award: Team Lead, Brett Marz, for being the stabilizing red wall that unifies the team with unwavering support and dedication.
Trusting Relationships Award: Animal Assisted Therapy Staff Hope Glenn for her gift of providing security and acceptance.
Growth Award: Shift Lead Devin Surface for always embracing challenges as opportunities.
Silent Service Award: Overnight Coach Ryan Dredge for providing students with comfort and safety through the night.
About Calo Programs
Calo Programs (www.caloprograms.com) is a unique organization comprised of an extraordinary family of programs, all dedicated to healing the effects of early trauma. Calo is a leading network of clinical and therapeutic programs that offers a comprehensive set of services focused on cutting edge, trauma-based interventions.
All Calo programs implement a unique and truly relational treatment model based on the science of neurobiology and evidence-based attachment and trauma treatment research. Calo's proprietary Developmental Trauma CASA Treatment Model and Clinical Structure is pervasive throughout the programs. The unique model facilitates establishing, deepening and maintaining healthy and safe relationships that ultimately lead to co-regulation and joy.