(Note to our readers: This is the fourth blog in a series written by a parent who has placed a child in residential treatment.)
Each time I visit, another piece of the puzzle makes itself known. I'm never quite sure when new details will be shared. The exact chemistry is unpredictable and not in my hands. The moment requires my child to be settled into our time together. We've had less than 10 days in the same space since the beginning of treatment, a long 153 days ago. My child must feel inner-calm and internal safety. My child must find a moment where they* are secure in our relationship, and emotionally close.
"You know," they said, toward the end of a recent day together, "a snail is so agile it can move across the fine, sharp edge of a razor blade, as long as it is careful and slow."
"Uch," I recoiled and squinted my eyes, reflexively turned-off by a tender-footed snail sliding with painstaking effort across an unforgiving razor blade. The garden surrounding my child's treatment center is home to many snails. Always looking to care for something, my child has taken to protecting them. We often get updates — their names, how they were interacting, how many were seen — during our Sunday social phone call.
"Why 'uch'?" they asked. Had I acted the wrong way? What is the possible alternative to an animal you care for being placed in such a threatening situation? "I'm like the snail," my child continued. "I have to move carefully across a space that is painful in order to make it to my next place. I have to remember to move slowly."
There it is. An immediate refocus to the experience that my child is living. The shift to see it through their eyes. A reminder that it's their view that leads this narrative.
What is it to be 15 years old and moving across a precipice created to slice open with a swift move? To find yourself in a place that supports you moving at a speed only perceptible if you are looking for it and trust that it is there? What must it be like to be in the midst of the usual teenage tumult, amplified by whatever neurological difference or life experiences create your tornado of heightened emotions, decreased coping skills and impaired judgment. At this dire point, a physical change of space is the only way to shift. The drastic situation can only be met by an even more powerful remedy. Relocate. Repair. Refocus.
RELOCATE
Our child moved from the busy metropolitan center where they've always lived to the quieter space of Utah, outside of Salt Lake City. Look past the suburban streets comprised of houses, schools, churches and strip malls, and angled mountains peak around all sides. They are streaked with snow during all seasons and hued a peach-rose in the morning light.
After three visits I'm getting to know the surroundings. I take comfort in the nearby Barnes & Noble. I look forward to our "healthy fast-food" meal at Noodles & Co. (mac & mheese for my child, tofu for me). I look out to the mountains. I've always found them reassuring. A reminder that our bumps, the challenging details of our personal life that we get stuck in, shrink in the wide view. We are so small in relation to the world, the natural space that is our earth. Mountains pull a necessary perspective that can be a challenge to find in my urban home.
My child's current home provides more domestic space in some ways, and less in others. They have physically moved from a modest urban apartment, to a spacious house filled with a community of 40 or so residents and half-as-many staff. They are surrounded all the time by peers who know them more intimately than we ever have. The residents hold each others' stories close. The community is essential to the healing. Drawn together by the need to live elsewhere, to change space and create new connections, they learn to trust themselves and their peers.
When I consider the precursors to my child moving away, it seems obvious: we were strangling them with our constant attention. Their every action communicated a desire to get away, often through dangerous moves. It takes a long time for a parent to get the message. Not until their relocation across the country, to a home that provided the security and help they so desperately needed, could I see their choices as a cry for help. It's hard to admit that your watchful, responsible actions are impeding your teenager's growth. Our child was screaming to break free. Our tight circle, meant as love, was felt as restraint. Now, we love from a distance, and trust the community which has enveloped and nurtured them.
REPAIR
"You handled my relapse well," they remarked that evening as we drove back to the hotel. A moment of trust and truth.
Before entry into residential treatment, a major obstacle for my child was an inability to detach from technology. As self-loathing and self-harm increased, the screen became a shackle they could not remove. On this visit they decided, with the support of the therapist, that 30 minutes of screen time would be allowed, monitored by me.
The previous evening an episode of a favorite TV show was requested, and we snuggled together on the bed as we waited for the video to download. After months of my child rejecting any physical contact, I was far more interested in the chance to sit close than the story on the screen. In order to stick to school routines, we got ready for bed and turned off the lights soon afterwards. Having flown across the country early that morning, I fell promptly asleep. Several hours later I woke up. The lights were on. My child was sitting upright in bed, holding my phone. I turned around, trying to figure out what was going on. A curse word was uttered under their breath and then, with more energy, "I relapsed! I can't believe it. I'm so sorry!" They scrambled to put the phone away and click off the lights. I could feel their disappointment.
"Mistakes are the way to growth," I said in attempts at some soothing. "Relapse is bound to happen. We'll just try again." I went to bed. The topic had not been broached until this car ride.
"If that happened at home, you would have gone hysterical and become dramatic," they said reflecting on the relapse. "Mama, you were so calm last night. That was great."
I took the acknowledgment, and took the opportunity to review the past. "You know, when you were living at home we could not figure out how to help you be healthy with technology. My fear manifested in my behavior. I was endlessly worried about your safety. That was scary."
"True that."
"Those last few months, I had moments of being hysterical. But not always. There was a lot of patience that came before, but as things got worse and worse, I was never sure what would happen next." The car was quiet.
"I was addicted. I see it," they said. A self-reflection that could only have come from the intensity of their new setting.
"And now, how do you feel? Are you in a better space? Relapse will happen again, but now we learning skills to help us get through it to a better outcome. Those skills are new for you and for me."
Quiet again. We each replayed events with the new perspective required to repair our relationship.
REFOCUS.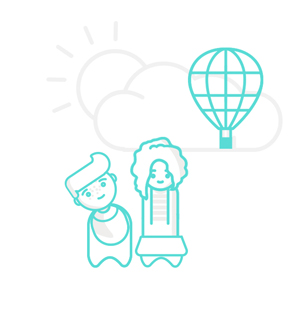 When your child is in trauma, their story becomes entwined with your own. You return to the state of hyper-awareness that you have when you are caring for a newborn. The regression that leads a family to find residential care for their child forces parents to return to a role they have long given up, this time inhabited with less joy and more fear.
Like an infant, a child who struggles before moving to treatment is utterly helpless, but rather than thriving under your care, your every move seems to make things worse. Anyone who has sent a child to treatment does it from a place of blinding love, a last resort of knowing that the care that your child needs cannot be given in any other way. It's a last-ditch attempt to get your child to alight on a new path that is healthy and safe.
In treatment, your child is consumed with refocusing. The many hours of therapy, in all forms, center on reflection. Residents are given space to take an inward focus. They work to understand the parts of themselves that are beautiful and need attention and nurturing and acknowledge the equally jagged aspects of their life which shred confidence, slice through sense-of-self and leave shards of pain. The distance from their home is a blessing of sorts, allowing them to focus only on themselves and their own care. Residential treatment is an amazing act of resilience, it takes tremendous strength to move towards health.
The space your child leaves in your home is present, always. The unexpected, abrupt departure cuts a hole. It's both painful, and necessary. This space allows your own focus to become wider, spreading out from the laser beam that was necessary in attempting to keep your child alive while home.
Chances are your attention to other things had been dwindling for many years. It was your duty to attend to your child's every need. Without knowing any different, you sacrificed hours of self-care and attention to your spouse, or other children, in an effort to plan for, and respond to, the unpredictable growth of your child-in-need. Chances are it's been bumpy from the get-go, but the teen years allowed the challenges to mature to a point of diagnosis, rather than a constellation of symptoms that you've be trying to corral.
Your child's time in treatment is time for you, too. Family members are caught in their own web of connections and reactions. It's important for parents to refocus some energy on figuring out their role in the trauma their child has endured. The lasting success of your child's time in residential treatment depends on your ability to refocus, too. So take your time to look inward while you have the chance.
What are some of the things that this refocus might allow you to do? With the right therapist you might find that there are parts of yourself that have been cut off. That elements of your life that used to bring joy were pushed to the side. Make time to bring them back. You might find chapters of your life story that require attention. Maybe you, too, have pieces of your past that cut. Find them. Examine them, and smooth the edges.
Although counterintuitive, a focus inward creates a deep connection to our child. It helps them feel companionship, and builds a sense of unity. Our actions illustrate that looking inward is an attribute of a healthy life at any age. Pursuing this personal work in tandem with our child creates opportunity for a real repair of our relationship. More than ever our child needs us to buy in, to take responsibility for the parts of the family life that made things a struggle and to develop new communication skills.
It's the ultimate dialectic. We have been doing the best we can, and while our child is in residential treatment, we can all learn to do better. Relocate. Repair. Refocus. Required.
* The author's child identifies as 'they/them.' The gender identity of the child is not the reason the child is in residential treatment.
If you want to learn more about this author's experiences and reflections, read these blogs:
9/27/17: The Teen Years: Residential Treatment is Filled with Hope
11/17/17: Family Weekend During Teen Treatment: We Are All In This Together
11/20/17: Family Weekend During Teen Treatment: New Communication Skills Take Shape
12/11/17: Relocate. Repair. Refocus. Required.
2/27/18: "I'm Not Going Anywhere…" When Teen Treatment Gets Messy
5/24/18: It's Fine
5/30/18: Nearly Normal
6/7/18: The Passage of Time
7/16/18: You Have to Work With What You Have
8/10/18: Healthy Teenage Boundaries – Taking Control
3/25/19 Parenting: I Would Like a Do Over
About the Author
The author lives in NYC and is the parent of two fascinating and engaging children, ages 15 and 12. An instructional leader at an elementary school, she has the privilege of spending her days supporting a wide-range of students and teachers.