Gender ::
Female | Male | Transgender
Director of Admissions
Tom Gettelman, PhD
Physical Address
1717 Sharon Road West
Charlotte
,
NC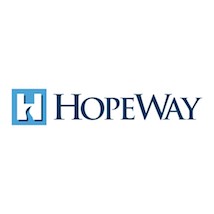 HopeWay is an accredited non-profit psychiatric treatment program for adults with 3 treatment options both residential and day treatment (PHP and IOP) options. Hopeway is Joint Commission accredited. Our program has a holistic, integrated approach which incorporates individual and group therapy (CBT and DBT based) including art therapy, music therapy, horticulture, recreation, health & wellness, yoga, mindfulness and meditation in a beautiful and safe campus in south Charlotte, NC. We treat adults living with a primary psychiatric diagnosis and can treat complex co-occurring disorders as well, including substance use disorders. We complete psychological and psychiatric assessments to determine an accurate diagnosis and develop individualized treatment plans for each client. HopeWay's wellness clinic is on site to manage any medical issues that might need to be addressed while a client in is in our care. HopeWay is a voluntary, unlocked facility. Applicants must be willing and able to participate in all treatment activities. We welcome self and family referrals, as well as referrals from mental health organizations, providers, hospitals and/or the community. All 3 of our treatment programs are in-network with Magellan and Blue Cross and Blue Shield of North Carolina and its affiliates. We also have a financial aid program for qualifying private pay clients. Please call for further insurance information and to discuss the financial aspects of our programs.

General Information
Privately Owned
HopeWay Foundation
Residential Treatment
12 acre campus with a main building & gym/gardens
Program
Single Rooms with Private Baths
Students are Always in "Line-of-Sight" with staff
ADHD
Alcohol Addiction
Anxiety Disorder
Bipolar and related Disorders
Codependency
Depressive Disorders
Dissociative Disorders
Dual Diagnosis
Irregular Sleep-Wake Syndrome
Major Depressive Disorder
Mood Disorders
Personality Disorders
Psychotic Disorders
Schizoaffective Disorder
Schizophrenia Spectrum
Substance Abuse
Substance Use Disorder
Substance/Medication-induced Psychosis
Trauma/PTSD
Unknown DX
MIDDLE: Family can opt in & out of their involvement based off the timing and current issues in treatment
Intensive Outpatient Therapy (IOP)
Partial Hospitalization Program (PHP)
Therapy - Group
Licensed Practical Nurse
Medical Doctor
Nurse Practitioner
Psychiatrist
Psychologist
Recreational Therapist
Registered Dietician
Registered Nurse
Accredition / Affiliation
Nuts & Bolts
Call for more information
Call for more information
Call for more information
Insurance
Private / Self Pay
Call For More Information
Charlotte / Douglas International Airport [CLT]
Mission Statement
Making HOPE tangible by inspiring mental wellness for all