Gender ::
Female | Transgender
Director of Admissions
Bri Anicetti
Physical Address
20 Ravenscroft Drive
Asheville
,
NC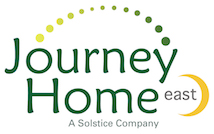 journeyhomeeast.com
Journey Home is a small residential step-down treatment program. This is a community based treatment option for young adults who have found success in other treatment settings like, a residential treatment center (RTC) or wilderness therapy program. It is specifically designed for young adults ages 17 – 21 years old who have successfully completed a therapeutic treatment program, and for one reason or another, returning to the home is not the best option for them. There are five core principals that Journey Home focuses on: 1. Healthy Living -Mental, emotional & spiritual health -Physical care and exercise -Relationships, social interactions 2. Education -Developing skills, interests & hobbies -High school or college academics -Vocational, career skills 3. Life Skills -Financial (budgeting, balancing check book, saving) -Daily Living (chores, cleaning, hygiene, etc) -Shopping -Cooking -Organization -Time management -Job searching skills 4. Personal Responsibility -Task completion -Planning and time management -Keeping commitments 5. Social Integration -Positive recreational activities -Community service -Dating -Healthy socialization & group activities Each client's progression through the Journey Home is assessed by the treatment team (which includes licensed clinicians) every other week.
General Information
Private Company - Owners On-Site
Privately Owned
Solstice East
General Information
Private Company - Owners On-Site
Privately Owned
Solstice East
Transitional Living / Community Based Support
Program
Executive Functioning or Social or Life Skills
Failure to launch
Sober Community
Supportive College Environment
Typical Vacations (holidays, summer, etc)
Visits are tied to program
Unstructured and Structured Family Communication
Houses: Live in support staff
Houses: Support staff on call
Therapy
Provided as Part of Program
Technology
Students have Laptops
Students have Laptops and unlimited Internet Access
}
Earned Privilege
Staff secured at Night
Education
Finish highschool through local HS
Accreditation
State License
North Carolina
Local Schools accredited through State
Nuts & Bolts
Call for more information
Call for more information
Infectious Disease
Major Injury | Death
Pregnancy
Runaways
Mission Statement
Our mission is to assist young women and their families in developing Excellence IN Relationships Influence Character Health (ENRICH) throughout their life journey.