Gender ::
Female | Male | Transgender
Director of Admissions
Chris Davis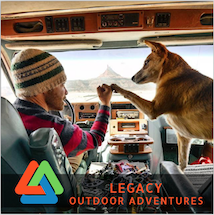 legacyoutdooradventures.com
Legacy Outdoor Adventures & Juniper Canyon Recovery Center for Women are premier wilderness therapy for adults. Legacy & Juniper Canyon guide adults (men & women) on a journey of self-discovery, healthy recovery, and personal growth. Both programs are gender specific and licensed as Residential Treatment Centers as well as wilderness therapy programs, specializing in outdoor adventure recovery. LEGACY OUTDOOR ADVENTURES: young adult men 18-35 JUNIPER CANYON: young adult women 18 to 35 CLINICALLY SOPHISTICATED: combining wilderness therapy with the clinical rigor and intensity of a residential treatment center, clients at Legacy & JC receive the most comprehensive therapy and programming in the industry. Legacy & JC are accredited by The Joint Commission Gold Seal of Approval® for Behavioral Health Care. RESEARCH LEADING: going beyond just effectiveness studies, Legacy & JC provide the highest standards of care by working with academics to help provide groundbreaking research in the field of Wilderness Therapy, as compared to other outdoor rehab centers. CLINICIANS FOCUS ON: treating mental health issues, as well as co-occurring substance abuse and addiction, and launching clients towards successful and meaningful lives. ADVENTURE. RECOVERY. PURPOSE: meaningful adventures are facilitated by expert guides, directed by licensed therapists & substance abuse counselors, and provide a very powerful environment for growth. INSURANCE: Legacy & JC have the necessary licensure staffing to proactively pursue insurance authorization.
General Information
Private Company - Owners On-Site
Legacy Outdoor Adventures
Public Land
Bureau of Land Management
National Forest Service
State Lands
Program
Doubles
Triples
Clients sleep in individual shelters
Alcohol Addiction
Anxiety Disorder
Codependency
Depressive Disorders
Dual Diagnosis
Eating and Feeding Disorders
Major Depressive Disorder
Mood Disorders
Personality Disorders
Process Addictions
Substance Abuse
Substance Use Disorder
Substance/Medication-induced Psychosis
Trauma/PTSD
HIGH: Family Expected on weekly calls (or more) & to attend all family workshops (weekly , monthly or quarterly)
Call for more information
Therapy - Group
Advanced Practice Master Nurse
Medical Doctor
Psychiatrist
Psychologist
Registered Nurse
Accredition / Affiliation
Nuts & Bolts
Call for more information
Call for more information
Call for more information
Insurance
Private / Self Pay
Breakout Billing For Insurance
Wilderness Therapy Model
Base Camp | Adventure Therapy
Group
Female Only Program
Male Only Program
Single Gender Group(s)
Call For More Information
Clinician Information
Art
Breathing Techniques / Breath Work
Meditation
Yoga
Medical / Wellness
N/A, we do not adjust meds in the field
Nurse
EMT
Physician / MD
Psychiatrist / MD
Active Psychosis
Actively Suicidal
Fire Starter
Pregnancy
Call For more information
|
Psychological Evaluations
Academic Options
Nuts & Bolts
Call for more information
Insurance
Private / Self Pay
Call For More Information
Mission Statement
Legacy Outdoor Adventures for men and Juniper Canyon Recovery Center for Women are treatment centers grounded in wilderness therapy for adults 18 - 35. Adventure, recovery & purpose guide the leadership of both programs. Legacy Outdoor Adventures & Juniper Canyon are unique because they provide gender specific, wilderness therapy for adults and can easily pre-authorize and bill insurance.