Director of Admissions
Alcycia Aldieri
Physical Address
162 Magnolia Creek Drive
Columbiana
,
AL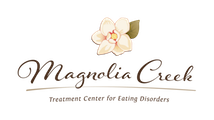 Magnolia Creek Treatment Center for Eating Disorders treats women (18 years or older) who struggle with feeding or eating disorders, such as: + anorexia nervosa + bulimia nervosa + binge eating disorder + other specified eating disorder + rumination disorder + pica + avoidant/restrictive food intake disorder + unspecified eating disorder And co-occurring mood disorders such as: + mood disorders + substance use disorders + obsessive compulsive disorder + post-traumatic stress disorder + attachment disorder + dissociative disorders + personality disorders. Magnolia Creek's programs emphasize self-acceptance, validation, and personal empowerment. Our holistic program addresses the medical, nutritional, psychological, spiritual, social-emotional and behavioral needs of our clients so they can fully recover, not simply manage their eating disorders and co-occurring mental health conditions. Magnolia Creek's residential program offers the highest level of care and the closest amount of supervision and support. Residential treatment provides a structured, constant, and stable environment in which our client can restore their physical and psychological health. Partial Hospitalization (PHP), also known as Day Treatment, allows clients to begin a life outside of treatment, facing everyday triggers and challenges while still receiving a strong level of professional care.

General Information
Privately Owned
Odyssey Behavioral Healthcare
Eating Disorders
Acute Inpatient Treatment (evaluation & assessment)
Program
Students are Always in "Line-of-Sight" with staff
HIGH: Family Expected on weekly calls (or more) & to attend all family workshops (weekly , monthly or quarterly)
Accredition / Affiliation
Nuts & Bolts
Call for more information
Mission Statement
Magnolia Creek offers evidence-based, quality care to women dealing with eating disorders and co-occurring mental health conditions. Our goal to provide comprehensive treatment to meet the psychological, medical, nutritional, spiritual, and relational needs of our clients.