Director of Admissions
Jason Cox
Physical Address
2010 Calle Reef
Isabela
,
Puerto Rico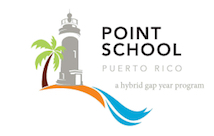 pointschoolpr.com
COVID-19 UPDATE: Call (484) 450-6878 Point School Puerto Rico integrates traditional gap year components such as cultural immersion, experiential learning, and volunteer experience with well-being support so young men can build self-identity through career, interest and personal exploration based on individualized strengths. Cultural Immersion PSPR guys experience authentic Puerto Rico by participating in Spanish classes and practicing conversational skills in the community, attending salsa and cooking classes, exploring the history, politics, and tourism of Puerto Rico. Experiential Learning PSPR guys gain recreational skills and competency. Activities include: SCUBA certifications, surfing, snorkeling, exploring, etc. Experiential learning offers an opportunity to gain skill mastery with the intention of building self-efficacy, intrinsic motivation, social confidence that can be transferred to other aspects of life. Volunteering PSPR guys gain professional experience fields that interest them. Volunteer experience is used to find a professional or academic track that they can find fulfillment and motivation through. They will develop professional skills, gain references, build resumes and increase executive functioning. Self-Discovery We use the VIA Character Strengths Survey to inform individualized strength development. Our goal is provide each young man with positive introspection that will boost intrinsic motivation, resilience, and self-efficacy as they transition into college and/or adulthood.

General Information
Private Company - Owners On-Site
Leased By Program
Rent to own. Two years with the right to first refusal. years
Private
Transitional Living / Community Based Support
Program
Executive Functioning or Social or Life Skills
Failure to launch
Self-identity development; Confidence building
Call For More Information
Typical Vacations (holidays, summer, etc)
Visits are tied to program
Unstructured Communication
Houses: Live in support staff
Therapy
Optional with Program Therapist
Technology
Students have Laptops and unlimited Internet Access
}
Students have access to their personal cell phones
Education
College University or Community
University of Puerto Rico at Aguadilla
Accreditation
Nuts & Bolts
Call for more information
Call for more information
Call for more information
Rafael Hernandez International Airport [BQN]
Surf Therapy Participate Survey published by the International Surf Therapy Organization
Mission Statement
**COVID-19 UPDATE: Point School Puerto Rico remains open during Coronavirus pandemic. Lockdown restrictions have been lifted in Puerto Rico. We are back to regular scheduling while abiding to WHO standards of social distancing and wearing masks in public places. ** Our mission is to provide an exclusive and dynamic gap year program that promotes wellness through an experiential and adventure-based curriculum.